Boudin and Mushroom Sauce with Celeriac Crème
Hiver 2014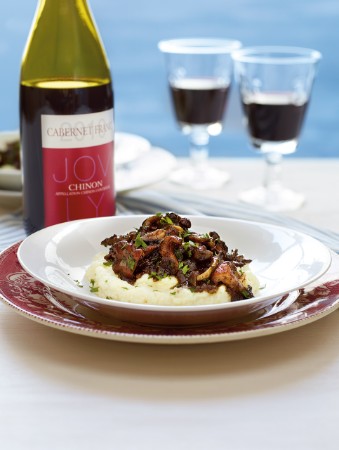 Boudin and Mushroom Sauce with Celeriac Crème
Hiver 2014
BY: Lucy Waverman
Celeriac is a very popular vegetable in Paris and should be more popular here. This recipe is based on a dish from Chez L'Ami Jean, but I recently ate a similar dish at Le Comptoir that included a beef ragout with the purée.
1 boudin noir

CELERIAC PURÉE
1 lb (500 g) celeriac, cut into 1 inch (2.5 cm)chunks (about 3 cups/750 mL)
½ cup (125 mL) diced Yukon Gold potatoes
3 cups (750 mL) whole milk
⅓ cup (80 mL) whipping cream
Salt and freshly ground pepper
1½ tsp (7 mL) lemon juice or to taste

MUSHROOM COMPOTE
3 tbsp (45 mL) olive oil
¼ cup (60 mL) chopped shallots
1 tsp (5 mL) chopped garlic
1 lb (500 mL) mixed whole mushrooms(including honey mushrooms, if available, torn)
2 tsp (10 mL) chopped fresh thyme
¼ cup (60 mL) red wine
1½ cups (375 mL) homemade or low-sodiumbeef or chicken stock
¼ cup (60 mL) butter
2 tbsp (30 mL) chopped parsley
1 Bring a medium pot of water to a gentle simmer. Add boudin noir and poach for 8 to10 minutes or until juices run clear when poked with a fork. Remove from poaching liquid and let cool. Discard poaching liquid. Remove and discard casing from sausage and chop sausagemeat.

2 Place celeriac, potatoes and milk in a pot over medium-high heat. Bring to boil and boil for 15 minutes or until potatoes and celeriac are very tender. Drain liquid and reserve separately.

3 Place celeriac and potatoes in a food processor with ⅓ cup (80 mL) drained liquid and whipping cream. Purée until smooth, adding more liquid if it is too thick. It should be the consistency of creamy mashed potatoes. Season with salt, pepper and lemon juice.

4 Heat oil in a large skillet over high heat.Add shallots and garlic and sauté for 30 seconds.Add mushrooms and thyme and sautéfor 2 minutes or until mushrooms lose their juices. Add boudin and sauté for 2 more minutes.Pour in wine and cook until wine has evaporated. Add stock and continue cooking until sauce is thick, about 5 minutes. Stir in butter and season with salt and pepper. Stir in parsley.

5 To serve, spoon celeriac cream into a soup bowl. Top with boudin-mushroom mixture.
SHARE