Boston Clam Chowder
Automne 2007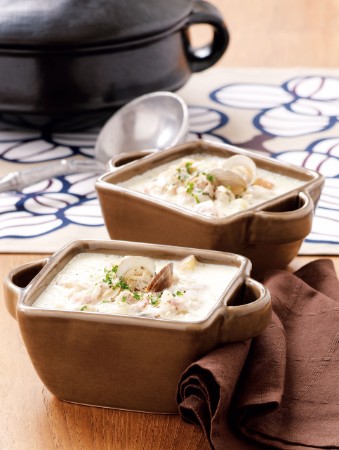 Boston Clam Chowder
Automne 2007
BY: Lucy Waverman
I prefer the small pasta clams for this soup but use the large if that is all that is available. Do not leave any large ones in the shell as they are too big to look attractive on the soup. This is a New England clam chowder, made with cream, rather than the tomato-based Manhattan one.
3 lb (1.5 kg), clams, rinsed well
2 cups (500 mL) water or fish broth
1 bay leaf
1 tbsp (15 mL) olive oil
4 slices diced bacon
1 cup (250 mL) finely chopped onion
½ tsp (2 mL) chopped fresh thyme
2 cups (500 mL) diced red potatoes, ¾-inch (2-cm) pieces
1 cup (250 mL) whipping cream
Salt and freshly ground pepper
1 tbsp (15 mL) butter, room temperature
2 tbsp (25 mL) chopped parsley
1. Place clams in a pot. Add water and bay leaf. Cover and steam for about 5 minutes or until clams open. Strain clams, reserving cooking liquid. Remove clams from shells and discard shells, leaving 4 in the shell for garnish. Add any extra clam liquid to cooking liquid.

2. Heat oil and bacon in a soup pot over medium heat and sauté until bacon renders its fat, about 5 minutes. Add onions, thyme and potatoes to pot and sauté until onions are softened, about 4 minutes. Pour over clam cooking liquid and bring to boil. Reduce heat to simmer and simmer for 15 minutes or until potatoes are cooked. Stir in cream and bring to boil.

3. Add clams and cook another 2 to 3 minutes or until clams are hot. Season with salt and pepper. Add a swirl of butter on top and garnish with parsley.
SHARE