Yellow Beet Borscht
Early Summer 2016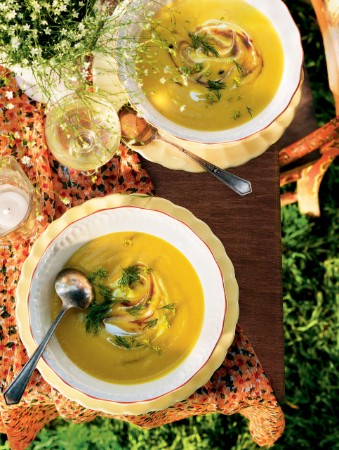 Yellow Beet Borscht
Early Summer 2016
BY: Lucy Waverman
This recipe is double what you will need as it keeps well in the refrigerator for five days and freezes well, too. The sun-like yellow colour looks like summer has arrived.
1 tbsp (15 mL) olive oil
½ cup (125 mL) chopped onion
½ tsp (2 mL) chopped garlic
½ tsp (2 mL) chopped ginger root
2 cups (500 mL) peeled and diced yellow beet
1 small carrot, peeled and diced, about ½ cup (125 mL)
3 cups (750 mL) chicken stock or water
½ cup (125 mL) peeled and chopped red-skinned potato
½ tsp (2 mL) turmeric
1 tbsp (15 mL) apple cider vinegar
1 tsp (5 mL) honey
Salt and freshly ground pepper

TOPPING
2 tsp (10 mL) balsamic vinegar
2 tbsp (30 mL) sour cream
2 tsp (10 mL) dill fronds
1 Heat oil in soup pot over medium heat. Add onion and sauté for 2 minutes or until beginning to soften. Add garlic and ginger and cook until fragrant, about 30 seconds. Stir in beets and carrots. Add stock and bring to a boil.

2 Simmer for 5 minutes then add potato and turmeric. Cook another 10 to 15 minutes or until all vegetables are tender. Stir in apple cider vinegar and honey and season with salt and pepper.

3 Transfer soup to a blender and purée until smooth. Spoon soup into 2 bowls. Drizzle each bowl with balsamic vinegar and sour cream. Run a knife through drizzles to create a swirl effect. Sprinkle with dill.
SHARE