Bok Choy Stir-Fry
Spring 2007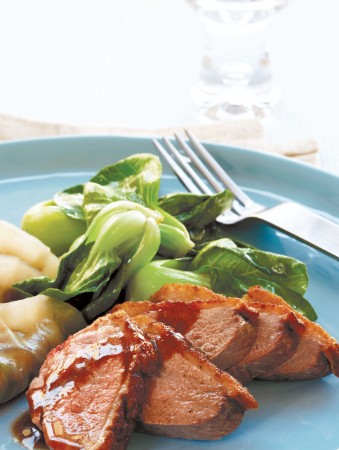 Bok Choy Stir-Fry
Spring 2007
BY: Lucy Waverman
A quick stir-fry that has a Chinese feel to it.
2 tbsp (25 mL) vegetable oil
1 tsp (5 mL) ginger
1 tsp (5 mL) chopped garlic
4 cups (1 L) baby bok choy
¼ cup (50 mL)chicken stock
1 tbsp (15 mL) soy sauce
Salt and freshly ground pepper
1. Heat oil in wok or skillet. Add ginger, garlic and bok choy. Stir-fry until slightly wilted, then add chicken stock. Cover wok and steam for 2 minutes or until bok choy is crisp tender. Reduce liquid until a spoonful remains and add soy sauce. Season with salt and pepper.
SHARE