Blue Chip Nachos with Pulled Beef & Avocado Crema
Winter 2018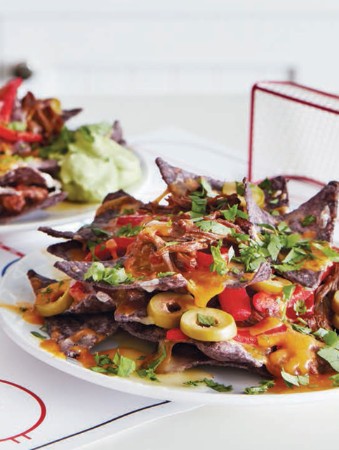 Blue Chip Nachos with Pulled Beef & Avocado Crema
Winter 2018
BY: Eric Vellend
These nachos look to Cuba for inspiration with ropa vieja (braised flank steak), sweet piquillo peppers and briny green olives. Avoid tortilla chips that are too delicate for the nacho treatment; Que Pasa blue corn chips are a good brand for the job. This recipe makes more beef than you will need, but the leftovers freeze well for future nachos.
PULLED BEEF
1 flank steak, about 2 lbs (1 kg)
Salt and freshly ground pepper to taste
2 tbsp (30 mL) vegetable oil
1 onion, thinly sliced
3 cloves garlic, finely chopped
1 tsp (5 mL) ground cumin
½ tsp (2 mL) dried oregano
1 cup (250 mL) chicken stock
1 cup (250 mL) tomato sauce
1 bay leaf
Granulated sugar to taste

AVOCADO CREMA
2 ripe avocados
½ cup (125 mL) full-fat sour cream
3 tbsp (45 mL) fresh lime juice
Salt to taste

NACHOS
1 lb (500 g) sturdy tortilla chips, preferably blue corn
½ lb (250 g) old cheddar, grated
½ lb (250 g) Monterey Jack, grated
6 jarred piquillo peppers, sliced, about ¾ cup (175 mL)
½ cup (125 mL) sliced green olives
½ cup (125 mL) chopped cilantro
Hot sauce (preferably Cholula) for serving
1. For the pulled beef, cut flank steak in half lengthwise. Cut each piece in half crosswise. Pat dry with paper towel and season with salt and pepper.

2. Heat oil in a sauté pan over medium-high heat. Cook steaks until nicely browned, about 3 minutes per side. Transfer steaks to a plate and reduce heat to medium. Add onion. Cook, stirring, 3 minutes. Add garlic and cook 1 minute. Add spices and cook 30 seconds. Deglaze pan with stock, stirring up browned bits with a wooden spoon. Add tomato sauce, bay leaf and beef. Cover and adjust heat to maintain gentle simmer. Cook, turning occasionally, until very tender, about 3 hours.

3. Transfer beef to baking tray. Raise heat to medium and reduce liquid until it has thickened, about 5 minutes. If it tastes tart, add sugar. Pull beef into shreds with 2 forks. Stir beef into reduced sauce and remove from heat. (Cooled, covered and refrigerated, beef will keep for up to 5 days.)

4. To make the avocado crema, place avocado flesh, sour cream, lime juice and salt in a food processor. Purée until smooth. Transfer to an airtight container. Press plastic wrap against surface. Refrigerate up to 1 day.

5. Preheat oven to 350°F (180°F).

6. Line a heavy-duty rimmed baking sheet with foil. Spread out half the chips and sprinkle with half the cheddar and Monterey Jack. Top with about one-third of beef then half of piquillo peppers and olives. Top with remaining chips, saving any small broken chips for another use. Repeat, layering the toppings, saving remaining beef for another use. Bake until cheeses are melted, about 20 minutes.

7. Remove from oven and sprinkle with cilantro. Serve immediately with avocado crema and hot sauce on side.
SHARE