Blackened Lamb
Summer 2006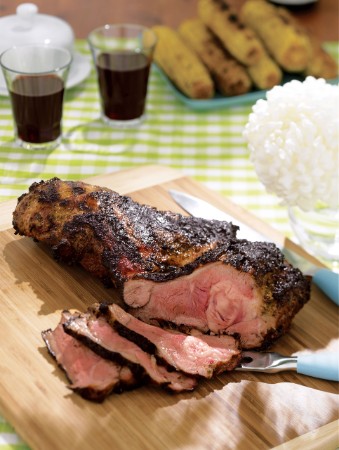 Blackened Lamb
Summer 2006
BY: Stephen Vardy, Executive Chef, Beckta Restaurant
This popular dish has appeared on the restaurant menu and as a grill Stephen makes at home. He cuts the leg into about 6 portions for restaurant use but we used a boned lamb leg.
3 lbs (1.5 kg) boned and butterflied leg of lamb
Salt and freshly ground pepper

Kick-Ass Lamb Marinade
¼ cup (50 mL) acacia or other honey
½ cup (125 mL) olive oil
1 tbsp (15 mL) grainy mustard
4 cloves garlic, chopped
1 tbsp (15 mL) toasted coriander seed
¼ cup (50 mL) chopped shallots
2 bay leaves
1 tbsp (15 mL) chopped rosemary
2 tbsp (25 mL) chopped parsley
1. Combine honey, olive oil, mustard, coriander seed, shallots, bay leaves and parsley in a food processor and purée. Place lamb in large plastic bag with marinade and seal well. Marinate in refrigerator overnight.

2. Preheat BBQ to high.

3. Season lamb with salt and pepper and grill until medium-rare, about 10 to 15 minutes a side. The exterior of the lamb will get blackened - this helps to flavour the dish.

4. Let lamb rest for 10 minutes before slicing. Slice thinly before serving.
SHARE