Blackened Jerk Chicken on Tostones
Temps des Fêtes 2015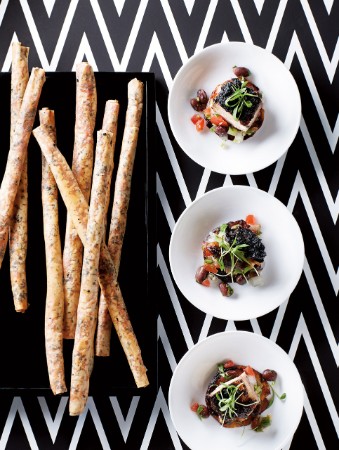 Blackened Jerk Chicken on Tostones
Temps des Fêtes 2015
BY: Christopher St. Onge
Usually tostones are made from unripe plantains, but I prefer them made with ripe ones. Look for plantains that are blackened but not mushy.
⅓ cup (80 mL) plus 1 tbsp (15 mL) vegetable or canola oil, divided
2 ripe plantains, peeled and each cut into 12 equal-sized pieces
1 tbsp (15 mL) apricot jam
1 to 2 tbsp (15 to 30 mL) best-quality jerk paste, such as Walkerswood
4 boneless, skin-on chicken thighs
½ cup (125 mL) drained and rinsed black beans
2 cocktail tomatoes, such as Campari, diced
¼ cup (60 mL) finely diced white onion
2 green onions, finely chopped
1 clove garlic, finely chopped
1 tbsp (15 mL) lime juice
¼ cup (60 mL) finely chopped cilantro
Salt and freshly ground black pepper
Cilantro sprouts or shredded green onion to garnish
1. Heat ⅓ cup (80 mL) oil in a large nonstick skillet over medium-high heat. Fry plantains for 2 minutes a side or until lightly golden and softened. Remove to a board and allow to cool for a minute or so. Squish with the bottom of a glass to about ⅓ inch (8 mm) thick.

2. Return pan to medium heat and, working in batches, fry plantain until crisp, about 3 minutes a side (refresh oil as necessary). Remove to a paper-towel-lined plate to drain.

3. In a medium bowl, whisk together apricot jam and jerk paste; add chicken to bowl and toss to coat chicken in jerk mixture. Set aside.

4. In a separate small bowl, combine remaining 1 tbsp (15 mL) oil, beans, tomatoes, white and green onions, garlic, lime juice and cilantro. Stir to combine and season with salt and pepper to taste.

5. Arrange chicken thighs flat and skin-side up on a foil-lined baking sheet. Broil on upper rack in oven for 4 to 7 minutes (time is dependent on heat of broiler) or until skin is blackened and crisp. Remove to a board and cut each thigh into 6 equal-sized pieces.

6. To serve, divide black bean salsa between tostones, top each with a piece of chicken and a pinch of cilantro sprouts.


SHARE