Blackberry-Cassis Gelée
Début de l'été 2016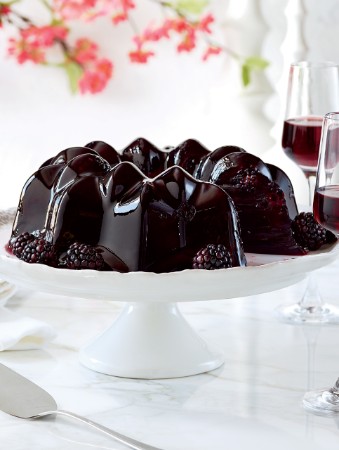 Blackberry-Cassis Gelée
Début de l'été 2016
BY: Amy Rosen
This elegant and, dare I say, dramatic gelée hits just the right dessert note. It's full of great grape and blackcurrant flavours with the burst of blackberries from within. If you don't want texture in your gelée, purée and strain berries through a fine sieve before adding to partially gelled mould.
1 cup (250 mL) cold water
4 packets (28 g in total) unflavored gelatin
4 cups (1 L) no-sugar-added Concord grape juice
¾ cup (175 mL) Cassis liqueur
2 pkgs (each 6 oz/175 g), about 2½ cups (625 mL) blackberries (or other berries such as raspberries or blackcurrants if you prefer)
1 Put cold water in a large heatproof bowl and sprinkle gelatin overtop, swirling bowl to moisten. Let it sit and bloom for 10 minutes. Set aside.

2 In a small pot, bring 1 cup (250 mL) grape juice to a boil and pour over bloomed gelatin. Stir to dissolve and then add remaining 3 cups (750 L) juice and Cassis and stir.

3 Lightly spray a nonstick Bundt pan. Pour mixture into Bundt and chill for 1 hour in the fridge, or until thickened but not solid.

4 Add blackberries to the partially thickened gelée, stir to combine and gently press mixture down and smooth with a spoon. Cover and refrigerate for at least 4 hours.

5 When ready to unmould and serve, fill the sink with a few inches of hot water, dip the pan into hot water for 20 seconds, then uncover; run a butter knife around the edge to be sure it's loose, and invert onto a serving plate. Serve in simple chic slices.
SHARE