Black-Eyed Hummus
Holiday 2001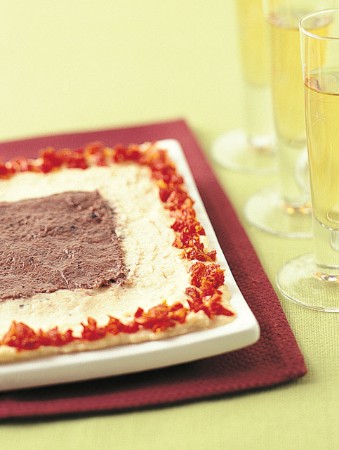 Black-Eyed Hummus
Holiday 2001
BY: Marilyn Bentz-Crowley and Joan Mackie
The flavours of the Mediterranean come to life in under five minutes in a colourful,
dramatic presentation.
2 cups (500 mL) homemade or purchased hummus
1/2 cup (125 mL) black olive tapenade
1/4 cup (60 mL) oil-packed sun-dried tomatoes
1. Spread hummus evenly over the deepest part of a plate about 10-inches (25-cm) across. Thinly spread tapenade in a small circle or square over the centre of the hummus. Finely chop sun-dried tomatoes and scatter around the outer edge of hummus. Serve with coarsely broken papadoms or pita crisps for scooping.
SHARE