Black Rice & Mushroom Larb
Early Summer 2017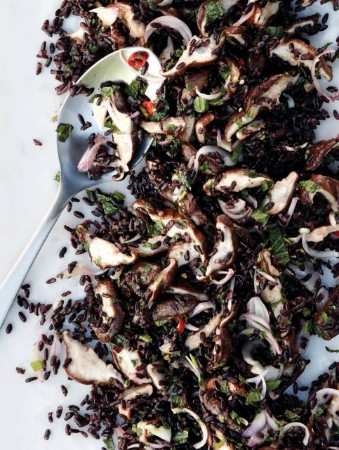 Black Rice & Mushroom Larb
Early Summer 2017
BY: Christopher St. Onge
A larb is a salad of sorts. Usually comprised mostly of meat, they're emblematic of Laotian and Northeastern Thai cuisine. Dressed pretty simply with herbs, lime juice, fish sauce, ground dried rice and wicked amounts of chili, they beg to be paired with a cold beer. Adding cooked rice is not at all traditional (though the salads are always eaten with rice), but this version is better for it—it makes a great side to grilled fish of any sort. While the black rice, often labelled Forbidden Rice, makes a beautiful salad, any husk-on medium grain rice can be used, but avoid those labelled glutinous.
1 cup (250 mL) black medium-grain rice
1¼ lbs (625 g) shiitake mushrooms, trimmed of stems
3 tbsp (45 mL) peanut, grape-seed or canola oil
¼ cup (60 mL) Thai fish sauce
¼ cup (60 mL) freshly squeezed lime juice
1 tbsp (15 mL) brown sugar
1 to 2 red Thai chilies, finely chopped
½ cup (125 mL) thinly sliced shallot
1 cup (250 mL) loosely packed mint leaves, chopped or torn
1. Bring a medium-size pot of salted water to a boil, add rice, cover and cook for 22 to 25 minutes or until rice is al dente. Drain, add to a large bowl and set aside to cool to room temperature.

2. Slice mushroom caps into ¼-inch-wide (5-mm) strips. Place in a large steaming basket and set over a pot or wok of boiling water. Cover and steam for 7 minutes or until mushrooms are tender. Remove basket from pot and let mushrooms stand, uncovered, until no longer steaming, about 5 minutes. Add to rice bowl and set aside.

3. In a separate small bowl, combine oil, fish sauce, lime juice and sugar; whisk until sugar is dissolved. Stir in chilies and pour dressing over rice mixture. Add shallots and mint; toss to combine. Salad is best the day it's made, served at room temperature, but will keep, covered and refrigerated for up to 3 days.
SHARE