Black Pasta with Spicy Southern Shrimp & Greens
Autumn 2015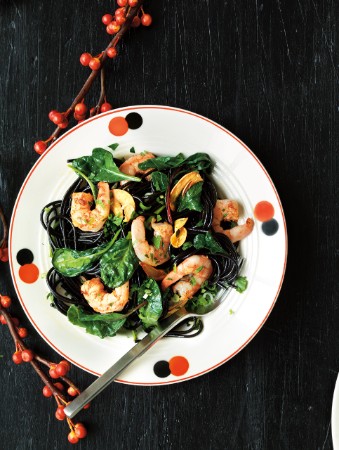 Black Pasta with Spicy Southern Shrimp & Greens
Autumn 2015
BY: Eshun Mott
When making a large quantity of lightly sauced pasta such as this one, it's important to use your largest frying pan and cook the ingredients in batches to build maximum flavour. To make this pasta dinner-party easy, prep and measure out all the ingredients ahead of time, and cook through to the end of step 3 before your guests arrive.
1¾ lbs (875 g) large peeled white shrimp
1½ tsp (7 mL) hot smoked paprika
½ tsp (2 mL) kosher salt
½ cup (125 mL) olive oil
½ cup (125 mL) thinly sliced garlic cloves
15 oz (450 g) mixture of baby kale, chard, spinach and beet greens
Salt and pepper
1½ cups (375 mL) dry white wine
2 tbsp (30 mL) cayenne pepper sauce (such as Frank's)
1 tbsp (15 mL) brown sugar
½ tsp (2 mL) Worcestershire sauce
1½ lbs (750 g) black spaghetti (nero)
½ cup (125 mL) chopped parsley
½ cup (125 mL) chopped green onions
1 Pat shrimp dry with paper towels, toss with smoked paprika and salt and set aside.

2 Heat olive oil in a large frying pan over medium-low heat. Add garlic and cook gently for 4 to 6 minutes or until lightly golden and crisp. Remove garlic from oil with a slotted spoon and place on a paper-towel-lined plate. Pour all but about 1 tbsp (15 mL) oil into a small bowl and reserve.

3 Return pan to burner over medium-high heat. Add half of the greens and toss in the 1 tbsp (15 mL) of oil remaining in the pan for 1 minute or until just barely wilted. Season with salt, scrape into a bowl and set aside. Repeat with 1 more tbsp (15 mL) garlic oil and remaining greens.

4 Return pan to burner over medium-high heat, swirl about 1 tbsp (15 mL) garlic oil over bottom of the pan and add about one-third of shrimp in a single layer. Cook, turning shrimp, for 1 to 2 minutes or until pink and just cooked through. Transfer shrimp to a clean plate, and cook rest of shrimp, adding a little more oil to pan as needed. Keep shrimp in a warm spot.

5 Turn heat to high, add wine to pan, scraping the bottom of the pan to incorporate any bits stuck to the bottom, and cook for 5 minutes or until liquid has reduced by half. Add cayenne pepper sauce, brown sugar and Worcestershire sauce, and stir over low heat for 1 minute or until flavours have combined.

6 Cook spaghetti in a large pot of salted water for 8 to 10 minutes or until al dente. Drain, and add pasta to sauce in frying pan over low heat and toss to coat. Season with salt and pepper to taste. Add reserved greens, half of parsley and green onions and a little extra garlic oil if desired and toss to incorporate. Transfer to serving dishes, top with shrimp, crispy garlic and remaining green onions and parsley and serve immediately.
SHARE