Black Forest Ice Cream Sandwiches
Summer 2007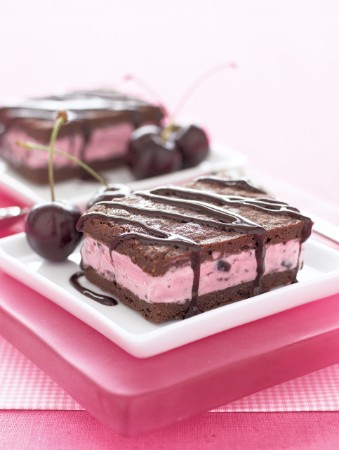 Black Forest Ice Cream Sandwiches
Summer 2007
BY: Jill Snider
Chocolate, cherry and cream: this dessert combines all the flavours of Black Forest cake in a hand-held ice cream bar. Best of all, you can keep them ready in the freezer for whenever the urge hits.



Brownies
1 cup (250 mL) butter
4 oz (125 g) unsweetened chocolate, chopped
2 cups (500 mL) granulated sugar
1½ tsp (7 mL) vanilla extract
2 eggs
1¼ cups (300 mL) all-purpose flour
3 tbsp (45 mL) unsweetened cocoa powder, sifted
¼ tsp (1 mL) baking powder
¼ tsp (1 mL) salt

Filling
6 cups (1.5 L) burgundy cherry ice cream (see Tip below).
3 oz (90 g) bittersweet chocolate, finely chopped
2 tbsp (25 mL) cherry liqueur or cherry brandy
1. Preheat oven to 350ºF (180ºC).

2. Line a 17 x 11-inch (45 x 29-cm) jelly-roll pan with aluminum foil or parchment paper. Grease lightly.

3. In large saucepan over low heat, melt butter and chocolate, stirring constantly until smooth. Remove from heat and let cool slightly.

4. Whisk in sugar and vanilla, mixing until blended. Add eggs, 1 at a time, whisking thoroughly after each addition. Combine flour, cocoa, baking powder and salt. Stir into chocolate mixture, mixing until smooth. Spread batter evenly in prepared pan

5. Bake in centre of oven for about 15 minutes or until set. Cool completely on wire rack then remove from pan.

6. Soften ice cream slightly. Stir in chocolate and return to freezer until firm, about 1 hour.

7. Trim edges from brownie. Cut in half vertically to make two 10 x 8-inch (25 x 20-cm) rectangles. Brush bottom side of brownie lightly with liqueur. Spread ice cream evenly over 1 piece. Place second on top, bottom-side down. Press lightly. Cut into 12 rectangles by making 3 vertical and 4 horizontal cuts evenly spaced. Wrap each sandwich individually in plastic wrap or aluminum foil. Freeze until firm, about 3 hours. Store in freezer.

Tip
For a quick filling simply use the store-bought ice cream right from the carton without the chocolate addition and liqueur.
Makes about 24 brownies, 12 sandwiches, about 2 x 3½- inches (5 cm x 9-cm)
SHARE