Black Cherry & Marzipan Bread Pudding
Holiday 2016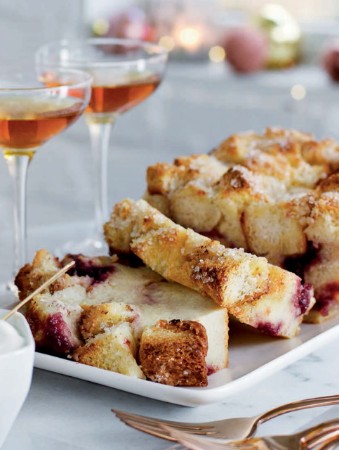 Black Cherry & Marzipan Bread Pudding
Holiday 2016
BY: Christopher St. Onge
Bread pudding is an easy comforting dessert. It can be easily tricked out to suit special occasions, as we've done here. To make the marzipan easy to grate, stash it in the freezer for 30 minutes or so before you plan to assemble the ingredients in the pan.
¼ cup (60 mL) butter, melted, plus extra unmelted to butter pan
9 cups (2.25 L) cubed day-old brioche or challah
½ cup (125 mL) good-quality black cherry jam
3½ oz (105 g) marzipan
1½ cups (375 mL) milk
1½ cups (375 mL) whipping cream, divided
2 eggs
2 egg yolks
½ tsp (2 mL) vanilla extract or paste
2 tbsp (30 mL) sugar
¼ tsp (1 mL) salt
½ tsp (2 mL) cinnamon
1 tbsp (15 mL) coarse decorative white sugar (optional)
1 tbsp (15 mL) amaretto
1 Preheat oven to 350°F (180°C).

2 Generously butter a 9½ x 4½-inch (24 x 11‑cm) loaf pan. Line with a strip of parchment trimmed to the length of the pan (the ends don't need to be covered), leaving ample overhang along sides to later become handles and aid in the removal of the loaf. Arrange 3 cups (750 mL) of the bread cubes evenly over bottom of pan; using only half of the jam, spoon randomly in dollops over bread. Grate roughly one-third of the marzipan overtop. Arrange another 3 cups (750 mL) of the bread over, and once again top with half the jam and one-third of the marzipan. Finish with the final third of bread, then the final third of the marzipan. Drizzle melted butter overtop.

3 In a large bowl, whisk together the milk, 1 cup (250 mL) cream, eggs and egg yolks; stir in vanilla, sugar, salt and cinnamon. Gently pour over bread and let stand for 20 minutes to allow bread to absorb custard mixture. Sprinkle decorative sugar overtop and bake for 40 minutes or until puffed and golden. Let stand at room temperature for at least 1 hour (hot bread pudding will be too delicate to turn out) before removing from pan and slicing into 8 pieces.

4 Whip remaining ½ cup (125 mL) cream with amaretto and serve slices with a dollop of the cream.
SHARE