Black Bean Sweet Potato Walnut Burgers
Summer 2015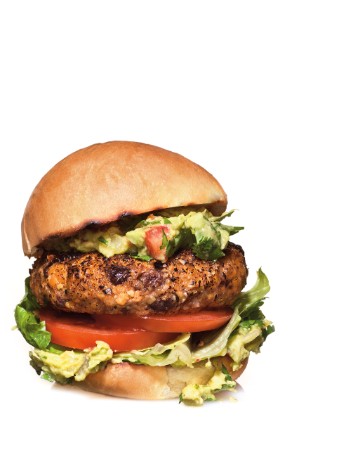 Black Bean Sweet Potato Walnut Burgers
Summer 2015
The sweetness of potatoes and beans in these patties is highlighted by the boldly flavoured guacamole with a punch of heat and smokiness. The walnuts add substance and, all together, these make for a very satisfying vegetarian burger. These patties are crispy on the outside and nice and moist inside, which does mean they're a bit fragile on the grill but if you take care when you're flipping them and use two spatulas to avoid breakage, they'll be just fine. Make the burger mixture early in the day or the day ahead to allow enough time for everything to cool and the mixture to set, then they'll be ready to cook off just before serving. A crispy romaine salad with cucumbers and sweet peppers completes the meal.
1 large sweet potato, about 1 lb (500 g)
2 tbsp (30 mL) olive oil
3 cloves garlic, minced
¾ cup (175 mL) vegetable broth
1½ cups (375 mL) walnut halves
1 can (540 mL) black beans, drained and rinsed
1 egg
1 tsp (5 mL) grated lime zest
1 tsp (5 mL) salt
½ tsp (2 mL) freshly ground pepper
¾ cup (175 mL) quick-cooking rolled oats or quinoa flakes
Oil for frying (optional)
6 soft hamburger buns, split
Smoky Guacamole (recipe follows)
Romaine lettuce leaves
Sliced tomatoes
1 Preheat oven to 375°F (190°C).

2 Peel sweet potato and coarsely shred on the large holes of a box grater or with a shredding blade in a food processor. You should have about 3 cups (750 mL), lightly packed.

3 Heat oil in a large skillet over medium-high heat. Sauté shredded sweet potato and garlic for 2 minutes or until potatoes are wilted. Add vegetable broth and bring to a boil. Reduce heat, cover and boil gently, stirring occasionally, for about 10 minutes or until soft. Uncover and boil for about 1 minute or until any excess liquid has evaporated. Transfer to a large bowl and let cool completely.

4 Meanwhile, spread walnuts on a baking sheet and toast for about 8 minutes or until golden and fragrant. Transfer to a bowl and
let cool completely. Chop walnuts in a food processor until fairly finely chopped (be sure not to make butter). Transfer half to a shallow dish for coating and set aside.

5 Add half of the black beans, egg, lime zest, salt and pepper to remaining walnuts in food processor and purée until smooth. Add to bowl with sweet potatoes. Add remaining black beans and rolled oats and stir until combined. Cover and refrigerate for at least 1 hour, until mixture is chilled and set, or for up to 12 hours.

6 Shape chilled mixture into 6 equal-sized patties, making them about ¾ inch (2 cm) thick. Place on a baking sheet and cover and refrigerate until cooking, up to 8 hours.

7 To grill, preheat barbecue to medium heat.

8 Press each patty into reserved ground walnuts to lightly coat each side.

9 Place patties on oiled grill. Grill for about 4 minutes or until bottoms are browned and crisp. Carefully flip over and grill for 3 to
4 minutes or until browned and hot in the centre. Alternatively, to fry patties, heat a thin layer of oil in a large skillet over medium heat. Fry patties in batches, turning once, for 3 to 4 minutes per side or until crisp on the outside and hot in the centre, adjusting heat and oiling pan between batches. Meanwhile, toast cut sides of buns.

10 Spread Smoky Guacamole on bottom half of buns and top with lettuce and tomato slices, then burger patty. Top with more guacamole and replace bun tops.

SMOKY GUACAMOLE

Chipotles along with sautéed onion and garlic add a depth to guacamole while the tomatoes and cilantro add a bright freshness. For a bit of smoky heat use the smaller amount of chipotle, but if you like a good punch, add more, though do keep in mind if you're making it ahead of serving, the heat will get stronger as the guacamole sits.

1 tbsp (15 mL) olive oil
½ small onion, finely chopped
2 cloves garlic, minced
1 to 2 tsp (5 to 10 mL) minced canned chipotle pepper in adobo sauce
2 soft ripe avocados
2 tbsp (30 mL) fresh lime juice
Salt
1 tomato, seeded and diced
2 tbsp (30 mL) chopped fresh cilantro
1 Heat oil in a small skillet over medium-low heat. Sauté onion and garlic for about 3 minutes or until soft and just starting to turn golden. Remove from heat and stir in 1 tsp (5 mL) of the chipotle. Let cool.

2 Peel and pit avocados and place in a bowl. Using a fork, mash avocados, adding lime juice and ½ tsp (2 mL) salt. Stir in onion mixture. Add more chipotle to taste, if desired. Place plastic wrap directly on the surface of guacamole and refrigerate for up to 4 hours.

3 Just before serving, fold tomato and cilantro into guacamole and season to taste with salt.
Makes about 2 cups (500 mL)
SHARE