Black Angus Hoagies with Chipotle Mayonnaise
Winter 2007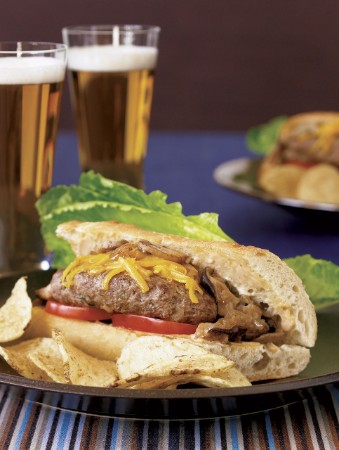 Black Angus Hoagies with Chipotle Mayonnaise
Winter 2007
BY: Marilyn Bentz-Crowley
A hoagie is also a submarine, a grinder and a po'boy-all are regional terms for a sandwich on a long bun with layers of fillings. Here, hearty beef flavour permeates the mushrooms, which are sautéed in pan drippings.
1 lb (500g) Black Angus or regular lean ground beef
1 large green onion, very thinly sliced
1 large garlic clove, minced
1 tbsp (15 mL) hot sauce
½ lb (250 g) mushrooms, preferably a mixture
½ cup (125 mL) mayonnaise
1 to 2 tsp (5 to 10 mL) minced or puréed chipotle peppers (see TIP)
1 tsp (5 mL) lemon or lime juice
1 to 2 large ripe tomatoes
2 tbsp (25 mL) canola or peanut oil, divided
½ cup (125 mL) finely chopped onion
Salt and freshly ground pepper
Four 6-inch (15-cm) submarine rolls or large baguette cut into quarters
1 cup (250 mL) grated old cheddar cheese
1. Crumble meat into a large bowl; add green onion, garlic and hot sauce. Work mixture with your hand until well combined; shape into long thin patties about 5-inches (12-cm) long and 2-inches (5-cm) wide. Thinly slice mushrooms-there should be about 4 cups (1 L). Stir mayonnaise with pepper purée and lemon juice; set aside. Thinly slice tomato; set aside.

2. Heat 1 tbsp (15 mL) oil in a large frying pan over medium-high heat; when hot, add patties. Sauté for 4 to 5 minutes per side, turning once, or until medium-well done. Remove from pan; keep warm.

3. Add remaining tablespoon (15 mL) of oil to pan. Add onions; sauté 1 to 2 minutes. Add mushrooms; lightly season with a sprinkling of salt and grindings of black pepper. Sauté, stirring often, for 5 minutes or until mushrooms lose most of their moisture.

4. Slice buns horizontally, keeping attached at 1 long side. Slather inside with mayonnaise mixture; add hot beef patty. Dividing equally, top patties with cheddar, tomato and hot mushrooms. Serve right away with a salad, potato chips and a large serviette!

Tip: Chipotle peppers, or smoked jalapeños, add spice and natural smoke flavour. Chipotles can be found canned, sometimes in adobo sauce, in grocery and specialty stores. Purée contents of can. Use what is needed for recipe, then scoop remaining purée into a small heavy-duty freezer bag. Excluding as much air as possible, seal bag and thinly spread out flat; freeze. Then when more is needed, simply break off pieces to defrost as required. Add as flavour-boost to chili, puréed squash, roasted red pepper pâté or carrot soup. Frozen purée keeps well for months.
SHARE