Bison Tartare
Summer 2013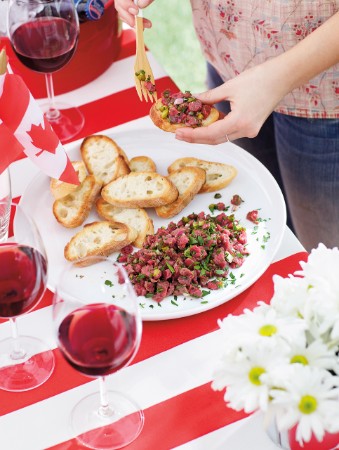 Bison Tartare
Summer 2013
BY: Monda Rosenberg
At Keriwa Cafe, acclaimed as one of Canada's best new restaurants and Toronto's first Aboriginal restaurant, Chef Aaron Joseph Bear Robe serves a bison tartare that has been highly praised by critics. He starts with a bison clod hammer, the third most tender cut on the animal (available at specialty butcher shops). He adds pickled garlic scapes and pickled wild leeks from his preserving cellar, as well as homemade adobo sauce. Borrowing flavours from some of Aaron's brilliant additions, we have used readily available products to mimic his in-house produced taste perks. Once chopped, the meat quickly loses colour, so dice and add to the dressing just before serving. Homemade little toasts or baguette slices are perfect as a base for the tartare, which is a truly marvellous way to be introduced to the world of bison.
2 tbsp (30 mL) finely chopped shallots
¼ cup (60 mL) finely chopped cornichons
1 tbsp (15 mL) drained capers, rinsed and finely chopped
2 tbsp (30 mL) finely chopped flat leaf parsley
2 tbsp (30 mL) thinly sliced fresh chives
2 egg yolks (see TIP)
1½ tsp (7 mL) adobo sauce
1 tsp (5 mL) grainy mustard
½ tsp (2 mL) celery salt
¼ tsp (1 mL) sea salt, such as Maldon
¼ tsp (1 mL) coarsely ground black pepper
3 tbsp (45 mL) extra virgin olive oil
8 oz (250 mL) chilled bison clod hammer
Finely chopped parsley for garnish
Toasted baguette slices
1 Prepare and combine shallots, cornichons and capers and set aside. Then chop parsley and chives and set aside separately.

2 In a small bowl, whisk egg yolks with adobo sauce, mustard, salts and pepper. Then, whisking constantly, slowly drizzle in oil. Stir in shallots, cornichons and capers. If not serving right away, cover and refrigerate up to 4 hours.

3 Because bison darkens quickly, plan to chop meat and add to dressing just before serving. Put bison in the freezer for 10 minutes to firm for cutting. Since it is important to keep everything chilled, also put a medium-size bowl for mixing the tartare into the freezer.

4 Just before serving, chop bison into ¼-inch (5-mm) dice. Spread out across bottom of the chilled bowl. Pour cold dressing overtop and mix gently with 2 spoons just until combined. Sprinkle with parsley and chives and mix in. Taste and add more salt if needed. Mound in the centre of a serving platter, garnish with chopped parsley and surround with toasted baguette slices. Serve immediately.

TIP When using a raw egg in a recipe, choose Canada Grade A eggs within their best-before date. This brings the assurance that they come from a registered farmer and that the eggs have been properly handled and graded. This recipe also works without the addition of egg yolks but will not be as rich
tasting.
SHARE