Bison Blue Cheeseburgers
Été 2015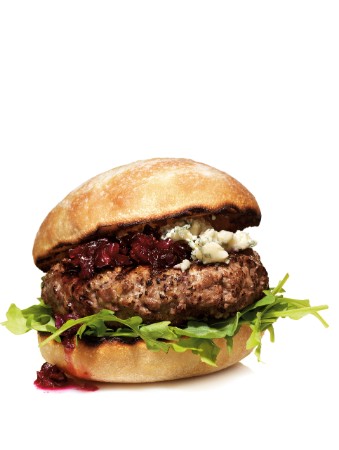 Bison Blue Cheeseburgers
Été 2015
BY: Jennifer MacKenzie
Game meat pairs famously with blue cheese and berries, and this burger has both. The zippy blue cheese in the patty and on top coupled with a sweet, tangy and fruity blueberry relish are custom-made for highlighting the taste of the bison. Bison is typically leaner than even lean ground beef so the egg, oats and blue cheese ensure a moist burger. With lean meats, it's particularly important you don't overwork the meat while you mix and shape the patties to keep them nice and tender. Using a gentle touch goes a long way to making fabulous burgers. Serve grilled potato chips and tender-crisp green beans or snap peas on the side.
1 egg
2 tsp (10 mL) Dijon mustard
½ cup (125 mL) quick-cooking rolled oats
½ tsp (2 mL) salt
½ tsp (2 mL) freshly ground pepper
2 lbs (1 kg) ground bison
½ cup (125 mL) crumbled blue cheese
6 crusty hamburger buns, split
Baby arugula or spinach
Blueberry Onion Relish (recipe follows)
1 Blend egg and mustard with a fork in a large bowl. Add oats, salt and pepper and stir to combine. Add bison and gently blend into egg mixture with the fork. Add half of the blue cheese and fold just until evenly distributed (do not overwork).

2 Shape bison mixture into 6 equal-sized patties, making them about ½ inch (1 cm) thick. Make a divot in the centre of each patty with your thumb or the back of a spoon. Place on a baking sheet, cover and refrigerate for at least 15 minutes or for up to 8 hours.

3 Preheat barbecue grill to medium.

4 Place patties on oiled grill with the divot up. Grill for 4 minutes or until juices just start to bead on the surface. Flip over and grill for 3 to 4 minutes or until meat thermometer inserted horizontally into centre of burger registers 160°F (70°C) or to desired doneness. Meanwhile, toast cut sides of buns on grill.

5 Arrange arugula on bottom half of buns and top with burger patty. Spoon relish on top of patty, then sprinkle with remaining blue
cheese and replace bun tops.

BLUEBERRY ONION RELISH

A decidedly different condiment for burgers, yet ideal for summer when berries are plentiful and burgers are on the menu often! This sweet and savoury relish with a touch of thyme truly complements the richness of the Bison Blue Cheeseburgers. You might want to double the recipe to have extra to serve with other burgers and grilled meats, too.

¾ cup (175 mL) finely chopped sweet onion
1 tsp (5 mL) pickling salt or kosher salt
1 small clove garlic, minced
½ tsp (2 mL) chopped fresh thyme
¼ cup (60 mL) granulated sugar
¼ cup (60 mL) red or white wine vinegar
½ cup (125 mL) blueberries, chopped
Freshly ground pepper
1 Combine onions and salt in a non-reactive bowl. Let stand at room temperature for at least 1 hour, until juices are released, or for up to 8 hours. Place in a fine-mesh sieve and press out excess liquid.

2 Combine drained onions, garlic, thyme, sugar and vinegar in a saucepan. Bring to a boil over medium heat, stirring often. Reduce heat and simmer, stirring often, for about 15 minutes or until onions are translucent and syrup is slightly thickened.

3 Add blueberries and cook, stirring, for 30 seconds. Remove from heat and season with pepper to taste. Let cool. Transfer to a clean jar and refrigerate for up to 2 weeks.
Makes about ¾ cup (175 mL)
SHARE