Sautéed Steak with Spanish Tomatoes
Spring 2018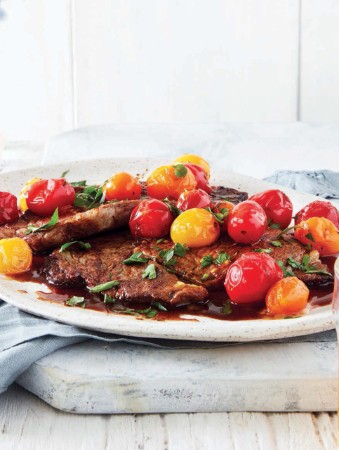 Sautéed Steak with Spanish Tomatoes
Spring 2018
BY: Monda Rosenberg
Seek out tender rib-eye or strip loin fast-fry steaks for this recipe. (Leave the less tender sirloin tip or round steaks for stir-fries.) Paprika gives the perfect undertone flavour for this dish, deepening the steak taste. Spanish sherry adds a lick of sweetness that's beautifully balanced with the balsamic vinegar—all perfect with the baby tomatoes. Round out the meal with saffron rice with chives and sugar snap peas.
1 tsp (5 mL) paprika, preferably smoked
Generous pinches of salt
2 fast-fry rib-eye steaks, about 8 oz (250 g) total (see TIP)
1 tbsp (15 mL) olive oil
2 cups (500 mL) cherry tomatoes, preferably a mix of colours
½ cup (125 mL) medium dry sherry
2 tbsp (30 mL) balsamic vinegar
1 tsp (5 mL) dried leaf thyme
Chopped mint or parsley for garnish (optional)
1. Sprinkle paprika and a pinch of salt over both sides of steaks. Rub to evenly cover the entire surfaces.

2. Heat a large skillet over medium heat. Coat pan bottom with oil. Add steaks and cook 1 to 1½ minutes a side, depending on their thickness. Remove to plates and cover to keep warm.

3. Add tomatoes to hot pan along with sherry, balsamic, thyme and a generous pinch of salt. Boil over medium heat, stirring often, until liquid is reduced to about ¼ cup (60 mL), about 5 minutes. Spoon over steaks. Sprinkle with mint or parsley if you like.
TIP If you prefer more meat per person, simply double the number of steaks, paprika and salt. Cook 2 steaks as above, then remove to a plate. Cook 2 more steaks in the pan. You may have to add a little more oil. Continue with the recipe.
SHARE