Grilled Flank Steak with Peach Salsa
Summer 2006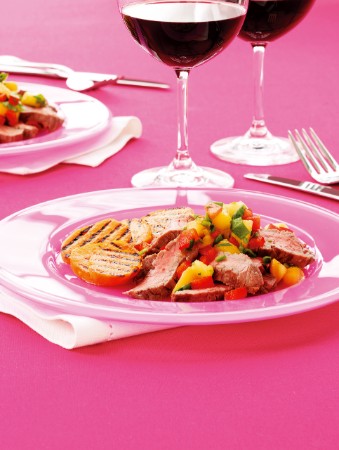 Grilled Flank Steak with Peach Salsa
Summer 2006
BY: Jennifer McLagan
This peach salsa is a good accompaniment to any grilled steak. It can also be served as a dip with corn chips.
1 flank steak
1 tbsp (15 mL) peach or orange juice
2 tbsp (25 mL) vegetable oil
2 tbsp (25 mL) chopped coriander plus ¼ cup (50 mL)
coriander leaves, coarsely chopped
½ tsp (2 mL) ground coriander seed
¼ tsp (1 mL) chili powder
4 peaches peeled and diced
3 green onions sliced
½ red bell pepper, diced
1 jalapeño pepper, seeded and minced
Zest of 1 lime
1 tbsp (15 mL) lime juice
Kosher salt and freshly ground pepper
1. With a sharp knife, lightly crosshatch the flank steak on both sides then place in a shallow dish.

2. Mix together the peach juice, vegetable oil, 2 tbsp (25 mL) chopped coriander, 1/4 tsp (1 mL) of the coriander seed and chili powder. Pour over the steak turning to coat, then leave to marinate for an hour at room temperature.

3. Meanwhile, place the diced peaches in a bowl. Add the green onion, red and jalapeño peppers and lime zest. Whisk the remaining ¼ tsp (1 mL) coriander seed with the lime juice and pour over the peach mixture. Add the chopped coriander leaves, season well with salt and pepper and toss to mix.

4. Lightly oil the grill and preheat to high.

5. Remove the steak from the marinade and cook 3 to 4 minutes per side depending on thickness. (Flank steak is best cooked to medium-rare). Let the steak rest for 5 minutes, then slice thinly on the diagonal and serve with the salsa.
SHARE