Best-Ever Mash
Autumn 2009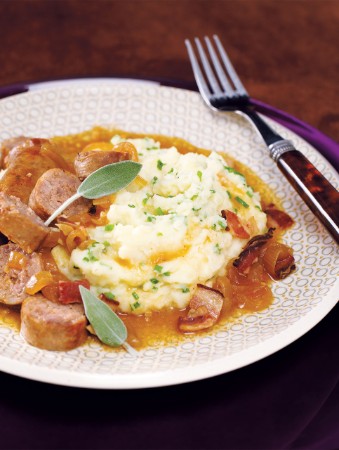 Best-Ever Mash
Autumn 2009
BY: Julia Aitken
Creamy mashed potatoes are given an extra kick of flavour here with the addition of celery root.
1½ lbs (750 g) Yukon Gold potatoes,
peeled and cut into chunks
1 celery root, 1 lb (500 g), peeled and cut into chunks
Salt
4 unpeeled cloves garlic, loose outer papery skins removed
½ cup (125 mL) whipping cream
2 tbsp (25 mL) unsalted butter
¼ cup (50 mL) snipped chives
Freshly ground black pepper
1. In a large saucepan, combine potatoes and celery root with enough salted water to cover the vegetables. Bring to a boil over high heat. Reduce the heat to medium-low; cook, covered, for 20 to 30 minutes or until vegetables are very tender. Drain well; return the saucepan to low heat for a few seconds, shaking the saucepan to dry the vegetables slightly.

2. While the vegetables are cooking, toast garlic cloves in a small dry skillet over medium heat for 10 to 12 minutes, turning often, until skins blacken and cloves are soft. Set aside. When cool enough to handle, squeeze garlic cloves from skins; set aside.

3. In a 1 cup (250 mL) microwaveable measure, combine the cream and butter. Microwave on high (100 percent) for about 1 minute or until the cream is steaming and the butter has melted. Add cream mixture and garlic to saucepan; mash vegetables roughly with a fork. With a hand-held electric mixer, beat the vegetable mixture just until it is smooth and fluffy (don't overmix or the vegetables will become gluey). Stir in chives and pepper and more salt to taste. Spoon into a warm serving bowl; serve at once.
SHARE