Berry and Mango Crisp
Winter 2006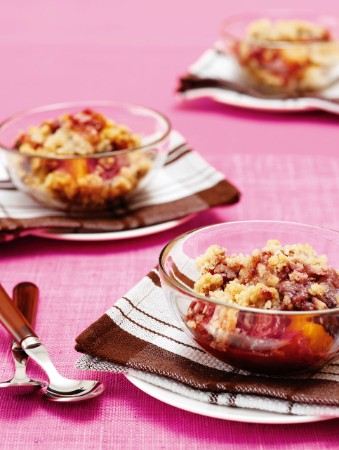 Berry and Mango Crisp
Winter 2006
BY: Heather Trim
Fresh fruit in season can't be beat, but at this time of year selection is limited and not so great tasting. The fast solution? Pick up some frozen fruit and bring a small taste of summer into your kitchen.
Topping
1 cup (250 mL) granulated sugar
1 cup (250 mL) all-purpose flour
2 tsp (10 mL) anise seeds
½ tsp (2 mL) ground cardamom
½ tsp (2 mL) ground cinnamon
½ cup (125 mL) cold unsalted butter, cut into bits

Filling
One 600 g pkg frozen mixed berries
One 600 g pkg frozen mangoes or 4 peeled thinly sliced apples
1 lemon
1 tsp (5 mL) vanilla
1/3 cup (75 mL) cornstarch
¼ cup (50 mL) granulated sugar
1. Preheat oven to 350ºF (180ºC).

2. To make topping, in a medium bowl, stir sugar with flour, anise seeds, cardamom and cinnamon. Using your fingertips, work in butter until mixture is crumbly.

3. To make filling, place frozen fruit in a large bowl along with 2 tsp (10 mL) lemon peel and vanilla. Stir. Stir cornstarch with sugar and toss with fruit. Turn mixture into a baking dish that holds at least 10 cups (2.5 L). Sprinkle topping over fruit. Place dish on a baking sheet to catch any drips. Bake in centre of preheated oven until topping is a deep golden colour, 40 to 45 minutes.
SHARE