Berkshire Pork Loin with Fennel and Potatoes
Autumn 2006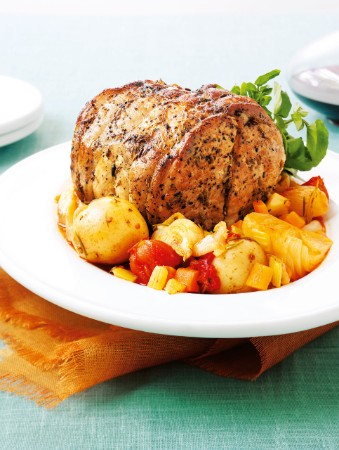 Berkshire Pork Loin with Fennel and Potatoes
Autumn 2006
BY: Sasha Chapman
This braise is inspired by Alfred Portale's Simple Pleasures. If your butcher sells the loin with the crackling attached, remove it before cooking, leaving about ¼-inch (5-mm) inch fat on top of the loin. Slice the crackling thinly and roast at 425ºF (220ºC) for 20 minutes in a roasting pan until crackling is crisp and fat is rendered. (The fat can be reserved for future cooking.)
3 lbs (1.5 kg) boneless pork loin, tied
Sea salt and freshly ground pepper
1½ tsp (7 mL) fennel seeds
2 tbsp (25 mL) olive oil
1 fennel bulb, halved and cut into wedges
1 large onion, quartered
1 stalk celery, diced
1 carrot, diced
8 cloves garlic, peeled
½ cup (125 mL) white wine
½ cup (125 mL) canned tomatoes, halved
12 small new potatoes
2 rosemary sprigs
2 thyme sprigs
1. Preheat oven to 325ºF (170ºC).

2. Season pork generously with salt, pepper and fennel seeds. Over medium-high, heat 1 tbsp (15 mL) oil in a medium-size roasting pan. Add pork and brown on all sides. Remove and set aside.

3. Add remaining oil, fennel wedges and onion to pan. Let brown on all sides. Add celery, carrot and garlic and cook 2 minutes more. Pour in wine, scraping up bits from bottom of pan.

4. Return pork to pan. Add tomatoes, potatoes, herbs and salt and pepper to taste. Pour in 2½ cups (625 mL) water. Bring to a boil, then cover loosely with foil and transfer to oven. Check after 15 minutes to ensure braising liquid is simmering gently; adjust oven temperature if necessary. Check pork after 1 hour and 45 minutes; continue cooking until internal temperature reaches 155ºF (68 ºC).

5. Remove pork and vegetables from pan. Pour liquid into a small saucepan and let rest 5 minutes, then skim off any fat. Set saucepan over high heat and bring to a boil.

6. Place pork on a warmed serving platter. Surround with vegetables. Strain sauce overtop.
SHARE