Berbere-Rubbed Crown Roast of Lamb with Fruited Couscous
Holiday 2017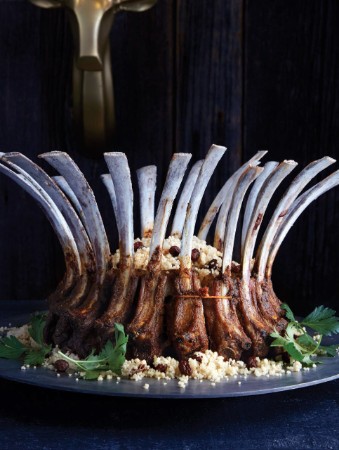 Berbere-Rubbed Crown Roast of Lamb with Fruited Couscous
Holiday 2017
BY: Jennifer MacKenzie
When you're hosting guests who appreciate the exotic, this Ethiopian-inspired spice rub on an elegant crown roast of lamb is sure to dazzle. George Madill, butcher and owner of Primal Cuts in Peterborough, Ont., suggests leaving bones extra long for even more drama. Just be sure to lower your oven rack enough to make room for the bones. The roasting temperature here is a little lower than is typical for lamb rack; this provides an even doneness throughout the roast and allows the flavour of the spices to blend well with the lamb. Grinding your own spice mix with whole spices gives a wonderfully fragrant flavour, but you can substitute prepared berbere spice blend, if you prefer (see TIP). The sweet and delicate couscous is an ideal match for the pungent spices and full flavour of the lamb. Serve wilted greens on the side.
2 tsp (10 mL) whole coriander seeds
1 tsp (5 mL) fenugreek seeds
½ tsp (2 mL) cumin seeds
¼ tsp (1 mL) cardamom seeds
2 tbsp (30 mL) sweet paprika
1 tsp (5 mL) salt
1 tsp (5 mL) ground ginger
1 tsp (5 mL) ground turmeric
1 tsp (5 mL) freshly ground black pepper
½ tsp (2 mL) cayenne pepper
½ tsp (2 mL) ground allspice
¼ cup (60 mL) olive oil
1 small clove garlic, minced
1 crown roast of lamb (20 ribs), 2¼ to 2½ lbs (1.125 to 1.25 kg)
1½ cups (375 mL) water

FRUITED COUSCOUS
2 tbsp (30 mL) olive oil
1 onion, finely chopped
2 firm-ripe pears, diced
1 clove garlic, minced
¼ tsp (1 mL) ground cinnamon
Salt and freshly ground pepper
½ cup (125 mL) raisins or dried cranberries
2 cups (500 mL) chicken stock
1½ cups (375 mL) couscous
1. Preheat oven to 375°F (190°C).

2. Grind coriander seeds, fenugreek seeds, cumin seeds and cardamom seeds in a spice grinder until powdered. Add paprika, salt, ginger, turmeric, pepper, cayenne and allspice; pulse to combine.

3. Toast spices in a small, dry skillet over medium- low heat, stirring constantly, for about 5 minutes or just until fragrant and slightly darker. Transfer to a small bowl and stir in oil and garlic.

4. Spread spice mixture evenly over meaty portion of lamb and backs of ribs. Place roast on a rack in a shallow roasting pan. Wrap exposed bones individually with foil. Pour about 1½ cups (375 mL) water into roasting pan (keeping level of water below rack).

5. Roast for about 45 minutes or until a thermometer inserted in the thickest part of meat registers 130°F (54°C) for medium-rare or to desired doneness (the temperature will continue to rise slightly while roast rests). Tent with foil and let rest for 15 minutes.

6. Meanwhile, make the couscous. Heat oil in a large saucepan over medium heat. Add onion and sauté for 5 minutes or until softened. Add pears, garlic, cinnamon, ½ tsp (2 mL) salt and pepper to taste and sauté for 1 minute. Add raisins and chicken stock and bring to a boil. Gradually stir in couscous. Remove from heat, cover and let stand for 5 to 10 minutes or until liquid is absorbed. Fluff with a fork.

7. Discard foil wrap from bones. Place lamb on a platter and spoon couscous into the centre of the crown to present at the table; spoon extra couscous into a warmed serving bowl. Carve lamb between bones into chops and serve with couscous.
TIP Substitute 3 tbsp (45 mL) of a prepared berbere spice blend and add your own salt (if it's unsalted) for the individual spices called for. You may want to test the spice blend on a small cut of meat ahead of time, as some of them are very fiery. If it's too hot, reduce the amount as necessary, making up the quantity with sweet paprika.
SHARE