Beet Fritters Stacked with Arugula, Mint, Pistachios & Goat Cheese
Autumn 2015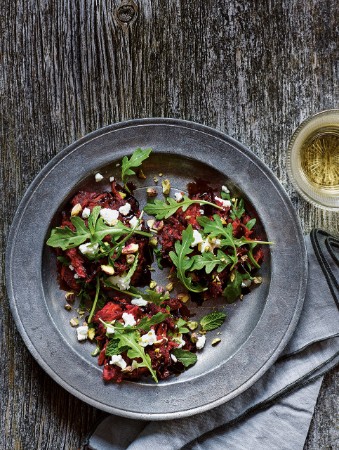 Beet Fritters Stacked with Arugula, Mint, Pistachios & Goat Cheese
Autumn 2015
BY: Amy Rosen
A taste of early autumn on a plate, this pretty combo is a reinterpretation of the classic beet salad, with warm lacy fritters stacked with arugula, mint, pistachios and goat cheese. A drizzle of balsamic glaze brings the team together.
2 carrots, peeled and grated
3 medium raw beets, ends trimmed, peeled, then grated
½ red onion, grated
2 large eggs, beaten
¼ cup (60 mL) flour
½ tsp (2 mL) salt
¼ tsp (1 mL) black pepper
Vegetable oil for shallow frying
4 cups (1 L) baby arugula
1 tbsp (15 mL) olive oil
Pinch of salt
Black pepper to taste
2 tbsp (30 mL) mint, roughly torn
1 log (120 g) goat cheese
½ cup (125 mL) pistachios, roughly chopped
Balsamic reduction (such as Blaze Balsamic Glaze)
1 In a large bowl, combine grated carrots, beets and red onion. Add beaten eggs, flour, salt and pepper. Stir to combine.

2 Using your hands, shape mixture into small pancakes. Heat 1 to 2 tbsp (15 to 30 mL) oil in a large nonstick frying pan over medium heat, and pan-fry 4 fritters at a time, until browned and crispy, 3 to 4 minutes on each side. Fry in several batches, adding more oil as needed. Drain on paper towel.

3 Lightly dress arugula with olive oil and salt and pepper, and toss with mint.

4 Stack 2 to 3 fritters per person (depending on whether it's an appetizer or main) layering with arugula, mint, crumbled goat cheese and pistachios. Finish each stack with a drizzle of balsamic reduction overtop, a few more sprigs of arugula and a sprinkling more of pistachios and goat cheese.
SHARE