Crab Fritters
Automne 2015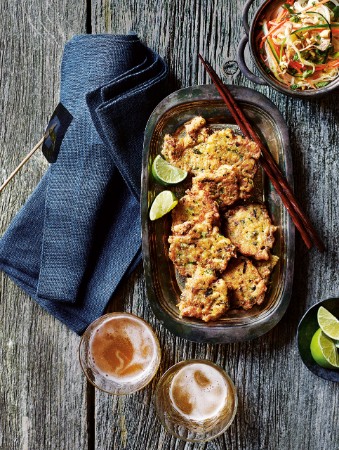 Crab Fritters
Automne 2015
BY: Amy Rosen
Thai food is a delicious balancing act of sweet, sour and salty, and these easy fritters with subtle lime and chili flavourings prove the rule. They were inspired by chef Ashley Jacot De Boinod's recipe from Glory Hole Doughnuts, and are the perfect pairing with a cool herbaceous Thai Rice Noodle Salad.
½ cup (125 mL) flour
½ tsp (2 mL) baking powder
¼ tsp (1 mL) salt
⅓ cup (80 mL) water
1 large egg
2 green onions, chopped
1 small fresh green Thai chili (or serrano chili), minced
3 tbsp (45 mL) Thai basil, chopped
½ lb (250 g) lump crabmeat
2 tsp (10 mL) freshly grated lime zest
Vegetable oil, for frying
Extra lime wedges, garnish
1 In a small mixing bowl, whisk together flour, baking powder and salt. In a medium bowl, whisk together water and egg. Add green onion, chili, Thai basil, crabmeat and lime zest. Gently fold in flour mixture until just combined, and set aside on counter for 30 minutes. Batter will be stiff.

2 Heat 2 to 3 inches (5 to 8 cm) of oil in a large, heavy-bottom skillet with high sides to 350° to 365°F (180° to 185°C). Fry fritters in 1 tbsp (15 mL) measures (makes 12) in small batches for 1 to 2 minutes or until golden on all sides. You're going for an irregular, rustic look. Remove with a slotted spoon or tongs to paper towel to drain.Serve with Thai Rice Noodle Salad (recipe follows) and extra lime wedges.

THAI RICE NOODLE SALAD
No Thai meal is complete without a cool, herbaceous rice noodle salad. By the time the kettle has boiled for steeping your rice noodles, you've prepped your veggies, dressing and toppings, making this one of the fastest—and tastiest—dishes in the East.

1 pkg (250 g) thin rice noodles

DRESSING
Zest and juice of 2 limes, about 3 tbsp (45 mL)
3 tbsp (45 mL) fish sauce
3 tbsp (45 mL) brown sugar
¼ cup (60 mL) water
1 red Thai chili, minced (optional)
2 large carrots, peeled into long strips with a carrot peeler, or julienned
1 English cucumber, seeded and peeled into long strips with a carrot peeler, or julienned
3 green onions, thinly sliced on the bias
½ cup (125 mL) cilantro or mint or a combination of both, as garnish
½ cup (125 mL) crispy fried onions, as garnish
⅓ cup (80 mL) dry roasted peanuts, coarsely chopped, as garnish


1 Place noodles in a large bowl and cover with boiling water. Set aside for 4 to 5 minutes. Drain, then rinse under cold running water and drain again very well.

2 While noodles are draining, prepare dressing in serving bowl by whisking together lime zest and juice, fish sauce, brown sugar, water and chili. Taste for balance and adjust as needed.

3 Add noodles and prepared carrots, cucumber and green onion to bowl and toss well. It will suck up all of that dressing. Just before serving, garnish with fresh herbs, crispy onions and chopped peanuts, and toss well.


SHARE