Beetroot Salad
Début de l'été 2006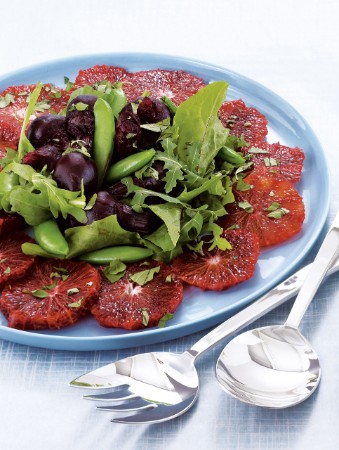 Beetroot Salad
Début de l'été 2006
BY: Bill Granger, Chef, bills
Substitute regular oranges if blood oranges are unavailable. If you have to use large beets for the salad then cut in quarters before boiling.
18 baby beets
Sea salt
8 cups (2 L) arugula
2 cups (500 mL) sugar snap peas, blanched, refreshed and trimmed
2 blood oranges, peeled and sliced
3 tbsp (45 mL) extra virgin olive oil
1 tbsp (15 mL) white wine vinegar
1 tsp (5 mL) chopped fresh oregano
Freshly ground pepper
1. Trim beets, reserving a few of the nicest leaves. Place the beets in a pot, cover with cold water and add a pinch of sea salt. Bring to a boil and boil for 25 minutes or until tender. Rinse under running water and peel away the skin.

2. Arrange the beetroot leaves, beets, arugula, sugar snaps and blood oranges on a platter. Combine olive oil, white wine vinegar, oregano, salt and pepper and drizzle over the salad.
SHARE