Beet and Green Soup with Sour Cream Glaze
Autumn 2006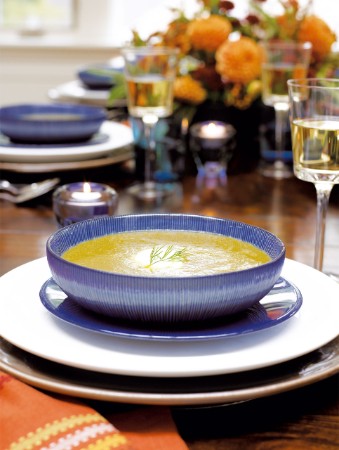 Beet and Green Soup with Sour Cream Glaze
Autumn 2006
BY: Lucy Waverman
This healthy recipe calls for young golden beets that still have their tops. If they are unavailable, use the larger beets, preferably golden, and thinly slice. This soup can be served hot or cold. Make up to 2 days ahead of time.
2 bunches baby golden beets and their greens (about 1½ lbs/750 g)
1 cup (250 mL) sliced onion
6 cups (1.5 L) chicken stock
¼ cup (50 mL) whipping cream
Salt and freshly ground pepper


Glaze
¼ cup (50 mL) sour cream
2 tbsp (25 mL) chopped fresh dill
1. Cut greens off beets and reserve. Wash and peel beets, then slice. Place sliced beets, onions and chicken stock in a pot and bring to boil over high heat. Reduce heat and simmer for 15 minutes or until vegetables are tender.

2. Cut stems from reserved greens and discard. Wash greens well and slice. Add to pot and cook until greens are wilted. Purée in a blender or with a hand blender and add cream. Bring to boil and remove from heat.

3. Combine sour cream and dill.

4. Spoon soup into bowls and swirl in sour cream mixture.
SHARE