Beet and Apple Salad with Taleggio
Holiday 2007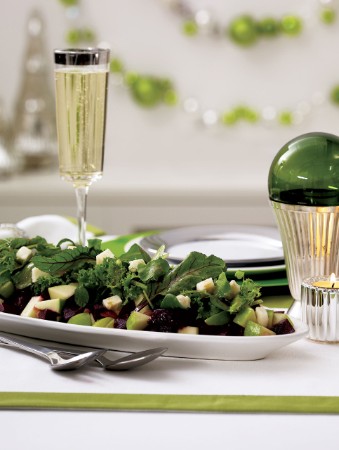 Beet and Apple Salad with Taleggio
Holiday 2007
BY: Lucy Waverman
A delicious small salad that whets the appetite for the rest of this spectacular meal. Taleggio is a sophisticated, slightly salty, nutty cheese from northern Italy. If unavailable then use another soft, slightly pungent cheese.
Salad
2 large red beets
1 tart apple, unpeeled
4 cups baby greens

Dressing
½ tsp (2 mL) Dijon mustard
2 tsp (10 mL) sliced shallots
1 tbsp (15 mL) red wine vinegar
2 tsp (10 mL) balsamic vinegar
¼ cup (50 mL) olive oil
1 tbsp (15 mL) chopped parsley
Salt and freshly ground pepper

Garnish
4 oz (125 g) Taleggio cheese
1. Place beets in a pot of cold water to cover. Bring to boil, reduce heat to medium and simmer for 45 to 50 minutes or until tender. Plunge into a bowl of cold water to cool and then slip off skins.

2. Core apple and cut into ½-inch (1-cm) dice. Cut beets into ½-inch (1-cm) dice and drain on paper towel.

3. Place greens in a bowl.

4. Whisk together mustard, shallots, red wine vinegar and balsamic vinegar. Whisk in olive oil, add parsley and season with salt and pepper. Toss 1 to 2 tbsp (15 to 25 mL) dressing with greens. Toss remaining dressing with beets and apples. Divide beets and apples between 6 plates. Top with greens and scatter with Taleggio.
SHARE