Beet Cole Slaw
Automne 2012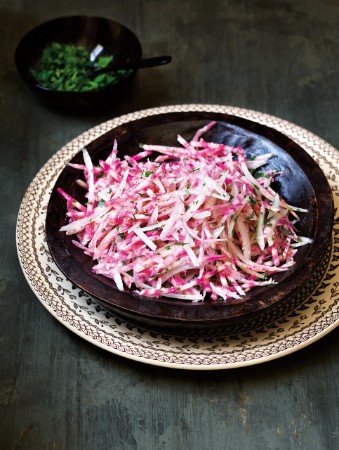 Beet Cole Slaw
Automne 2012
BY: Lucy Waverman
Candy cane beets, if you can find them, produce a sensational looking salad. If you do, then just use those beets alone—don't mix colours. Also, don't shred beets too early as they tend to oxidize slightly.
DRESSING
2 tbsp (30 mL) white wine vinegar
¼ cup (60 mL) grated Pecorino cheese
½ cup (125 mL) olive oil
Salt and freshly ground pepper

BEETS
12 small mixed-coloured beets, peeled (about 4 cups)
½ cup (125 mL) thinly sliced onion
¼ cup (60 mL) chopped parsley
1 Whisk vinegar, Pecorino and olive oil in a small bowl. Season with salt and pepper.

2 Shred beets with shredder blade of the food processor or a grater that creates a julienne cut. Place in a separate bowl. Add onions and parsley. Drizzle with dressing and season salt and pepper. Toss to combine.
SHARE