Beet Chips With Lime Salt
Printemps 2005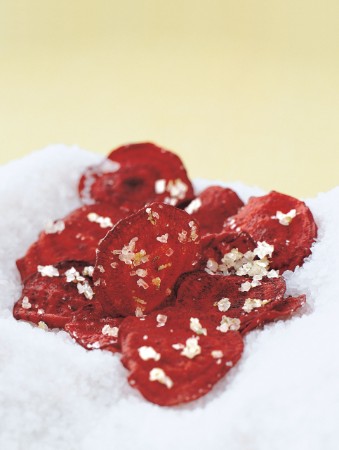 Beet Chips With Lime Salt
Printemps 2005
BY: Dana Speers
Salty, sweet and tangy, these crispy beet chips make an irresistible snack, cocktail party hors- d'oeuvre or salad garnish. They won't keep, so serve them right after cooking
4 cups (1 L) vegetable oil, for deep frying
8 medium beets, peeled and thinly sliced
Lime salt to taste (recipe below)
1. Pour vegetable oil into a sauté pan. Using a candy thermometer to check temperature, heat oil to 325°F (160°C).

2. Add the beet slices in small batches. Fry slices about 2 to 3 minutes or until golden and crisp. Drain on paper towels and season with lime salt. Serve immediately.

Lime Salt
2/3 cup (150 mL) fine sea salt
Freshly grated zest of 4 limes

1. Preheat oven to 325°F (160°C).

2. Combine sea salt and lime zest in a pie plate. Bake salt for 10 minutes. Cool.

SHARE