Beer Can Chicken
Été 2003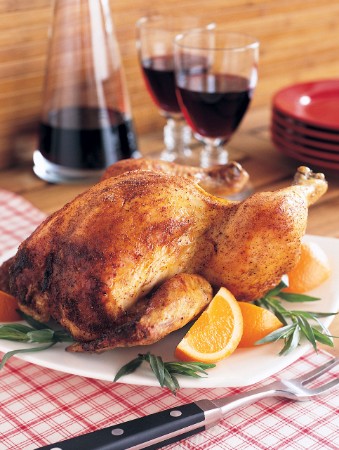 Beer Can Chicken
Été 2003
BY: Lucy Waverman
This method of cooking chicken originally comes from the deep South. It is the best way to cook a whole chicken on the grill because the skin never touches the grill and therefore never burns. The method has been well documented by chefs and food writers and is usually called beer can chicken because of the theory that if you perch your chicken on top of an open can the beer inside will baste the chicken and keep it moist. Today you can buy a specialized pan that gives you the same configuration as a beer can on a rack but more flexibility. You can vary the basting liquid to your own taste or use beer. Make sure the chicken is placed securely on the roasting pan or beer can, pulling the legs forward to create a tripod effect to help balance it on the grill. After cooking, let the chicken cool slightly before sliding it off the can, using tongs. Keep a baking sheet close and transfer it over. To create the smoke for this recipe you will need 2 cups of wood chips or chunks soak
One 3-1/2 to 4 lb (1.75 to 1.9 kg) chicken
2 tbsp (25 mL) all-purpose barbecue rub (recipe follows)
1 tbsp (15 mL) vegetable oil
1/4 cup (50 mL) orange juice
1 tbsp (15 mL) chopped fresh tarragon
1 tbsp (15 mL) chopped garlic
1. Sprinkle chicken with 1 tsp (5 mL) rub inside the body cavity. Drizzle oil over the outside of the chicken. Sprinkle 1 tbsp (15 mL) rub all over bird. Sprinkle remaining rub into the orange juice. Stir in tarragon and garlic. Pour orange juice mixture into cup on rack.

2. Place wood chips or smoker basket under rack. Preheat barbecue on high heat. When chips are smoking turn off one element and reduce other elements to medium. Temperature should be about 350 degrees F (180 degrees C)

3. Hold the bird upright with the opening of the body cavity at the bottom and lower it onto the grilling rack. Place on the rack of preheated barbecue.

4. Cook chicken 1 hour to 1 hour 15 minutes or until skin is crisp and juices run clear. Remove with tongs from rack and let rest for 10 minutes. Cut up to serve. Serve with barbecue sauce.
SHARE