Beefsteak Fiorentina
Winter 2006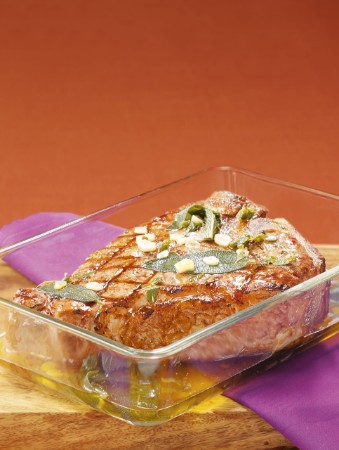 Beefsteak Fiorentina
Winter 2006
BY: Jennifer McLagan
A specialty of Tuscany, where the local Chianina beef is known for its succulence, Beefsteak Fiorentina is simply a thickly cut porterhouse steak grilled over hot coals and bathed in the best- quality extra virgin olive oil, fragrant with herbs. My husband and I first tasted it more than 15 years ago in a nondescript restaurant in a little town outside Florence. The town had a bakery, a butcher and a café-bar with a small dining room. The menu was short, and there was no wine list, customers chose their wine from a selection displayed on the shelf behind the bar. Neither of us knew much about Italian wine at the time so I made my husband choose. Being an artist, he picked the one with the label he liked best-Tignanello. Now I always let him choose the wine.
1 porterhouse steak, 2-inches (5-cm) thick, about 3½ pounds (1.75 kg)
½ cup (125 mL) extra virgin olive oil
1 tsp (5 mL) rosemary leaves
1 tbsp (15 mL) marjoram leaves
10 sage leaves
2 garlic cloves, sliced
1. One hour before cooking, remove the steak from the refrigerator.

2. Heat the oil in a small saucepan, until hot. Remove from the heat, add the rosemary, marjoram, sage and garlic, and stir to mix. The moisture in the herbs will cause the oil to sizzle. Set aside to cool.

3. Preheat a grill or broiler to high.

4. Grill or broil the steak to rare or medium-rare, turning once. Place it in a shallow dish, pour over the herb-infused oil and turn to coat. Let the steak rest in the oil bath for 5 to 7 minutes.

5. Remove the steak from the oil and cut the meat off the bone in 2 pieces. Cut into thick slices, then drizzle with the flavoured oil.

Carving Porterhouse
This steak should be removed from the centre bone in 2 sections, and then carved into slices or thick pieces. Place the steak on the carving board and cut along either side of the T-bone, to remove the meat. Slice the tenderloin and the loin, and make sure each person receives meat from both sections.


SHARE