Beef with Cabernet Sauce
Winter 2007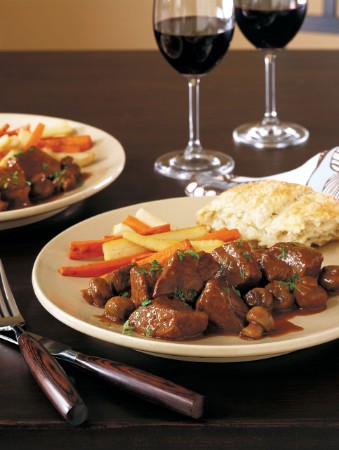 Beef with Cabernet Sauce
Winter 2007
BY: Lucy Waverman
By using cubes of sirloin quick sautéed ahead of time until rare and then reheating them in the make-ahead sauce at the party, you get a spectacular make-ahead main course.
Red Wine Sauce
½ cup (125 mL) dried mushrooms
1 cup (250 mL) boiling water
2 tbsp (25 mL) olive oil
1 cup (250 mL) chopped onion
½ cup (125 mL) chopped carrot
½ cup (125 mL) chopped celery
1 tsp (5 mL) chopped garlic
2 tbsp (25 mL) all-purpose flour
3 cups (750 mL) beef stock
1 tbsp (15 mL) tomato paste
1 tsp (5 mL) dried thyme
1 bay leaf
2 stalks parsley


Beef
¼ cup (50 mL) olive oil
2 ½ lb (1.25 kg) sirloin of beef, cut in
2-inch (5-cm) cubes
Salt and freshly ground pepper
1 lb (500 g) button mushrooms
1 cup (250 mL) red wine
1 tbsp (15 mL) balsamic vinegar


Garnish
3 tbsp (45 mL) chopped parsley
1. Soak mushrooms in water for 20 minutes or until mushrooms are soft. Reserve.

2. Heat oil in pot over medium heat. Add onion, carrot and celery and sauté for about 5 minutes or until vegetables are brown around the edges. Add garlic and sauté 1 minute longer.

3. Stir in flour and blend with vegetables. Cook flour, stirring until it is a rich brown colour, about 3 minutes. Add stock, tomato paste, thyme, bay leaf, parsley stalks and mushrooms and their soaking liquid. Bring to boil, stirring occasionally. Reduce heat to low and cook for 45 minutes or until strongly flavoured and slightly thickened. Strain sauce pressing down on solids. Reserve.

4. Heat 2 tbsp (25 mL) oil in large skillet or sauté pan over high heat. Season beef with salt and pepper. Add beef and brown in batches about 1 to 2 minutes per side. The meat should be rare as it will cook again in the sauce. Add more oil as needed. Reserve meat and any juices. Add mushrooms and sauté for 4 minutes or until they are softened. Reserve with meat.

5. Add red wine and balsamic to skillet and scrape up all the bits at the bottom of the pan. (If the base is badly burned from the cooking then wash pan out before adding wine). Bring to boil and boil until wine is reduced by half. Add to reserved sauce.

6. When ready to serve, add sauce to skillet and bring to boil on high heat. Reduce heat to medium and add meat, mushrooms and any juices to sauce. Simmer together until meat is reheated and still pink in the middle. Remove meat to serving platter and boil sauce until it is thickened and rich-tasting, about 4 minutes. Pour over meat and scatter with parsley.

Potato Bread
This trendy scone-like potato bread tastes wonderful. Serve hot with
lots of butter or use to dip in gravy. Bake ahead of time, cool and
reheat for 5 to 10 minutes in 350ºF (180ºF) oven.

1 lb (500 g) baking or other starchy potato
1 tbsp (15 mL) salt
1½ cups (375 mL) mashed potatoes
¼ cup (50 mL) roasted garlic    
1 tsp (5 mL) freshly ground pepper
3½ cups  (875 mL)    all-purpose flour
2 tbsp (25 mL) baking powder
½ cup (125 mL) milk
¼ cup (50 mL) melted butter
1 tsp (5 mL) dried savoury or rosemary
1 egg, beaten
Maldon or Kosher salt
1.  Peel and grate potatoes into a large bowl-you will need about 3 cups (750 mL). Sprinkle with 1 tsp (5 mL) salt. Let mixture sit for 30 minutes. Drain potatoes of starchy liquid and squeeze gently to remove any more starch.

2.  Add mashed potatoes, roasted garlic remaining salt and pepper and mix well.

3.  Add flour, baking powder, milk, melted butter and savoury. Knead mixture on floured board until dough holds together, about 5 minutes. You will need extra flour for kneading.

4.  Preheat the oven to 350ºF (180ºC).

5.  Divide dough into 4 equal pieces. On a lightly floured board roll each piece out into 6-inch (15-cm) circles. Place rounds on a buttered baking sheet and brush generously with the beaten egg. Mark each cake into quarters with a cross and sprinkle with Maldon salt.

6.  Bake for 40 minutes or until cooked through and lightly browned. Cool on a rack before slicing.

Carrot, Parsnip and Celeriac Stir-Fry

Blanch the vegetables at home and bring them to the party with the skillet. Change the vegetables to suit your taste if desired - turnips, rutabaga and sweet potatoes or squash are all good in the recipe.

2 cups (500 mL) celeriac peeled and cut in ½-inch (1-cm) chunks
2 cups (500 mL) parsnips peeled and cut in ½-inch (1-cm) chunks
2 cups (500 mL) carrots peeled and cut in ½-inch (1-cm) chunks
Salt
3 tbsp (45 mL) butter
Freshly ground pepper
2 tbsp (25 mL) chopped chives
1.  Place celeriac, parsnips and carrots in a pot and cover with cold water and a pinch of salt. Bring water to a boil and boil for 5 minutes or until vegetables are tender. Drain.

2.  Heat butter in a large skillet over high heat. Add vegetables and stir-fry for 5 minutes or until browned and heated through. Season with salt and pepper and sprinkle with chives.
SHARE