Beef and Horseradish Open Sandwiches
Early Summer 2001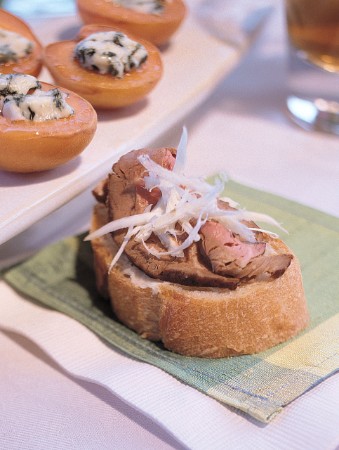 Beef and Horseradish Open Sandwiches
Early Summer 2001
BY: Jennifer McLagan and Heather Trim
The sharp heat of horseradish contrasts nicely with the caramelized beef.
1 1/2 lb (750 g) fillet of beef
1 tbsp (15 mL) vegetable oil
1 tbsp (15 mL) icing sugar
1/2 cup (125 mL) butter, at room temperature
1/4 cup (50 mL) prepared horseradish
Salt and freshly ground pepper
2 baguettes


Garnish
Freshly grated horseradish
Cherry tomatoes
1. Preheat oven to 500°F (260°C). Toss beef with oil, then place on foil-lined cookie sheet. Sift over icing sugar and roast 20 minutes, turning halfway through. It should be rare to medium or 125° to 130°F (50° to 55°C) when tested with an instant-read thermometer. Wrap in foil and let rest overnight.

2. Using electric beaters, blend butter and horseradish. Season to taste.

3. Slice baguettes, butter with horseradish butter and top with a slice of beef. Garnish if desired.
SHARE