Beef Vegetable Herb Salad
Autumn 2007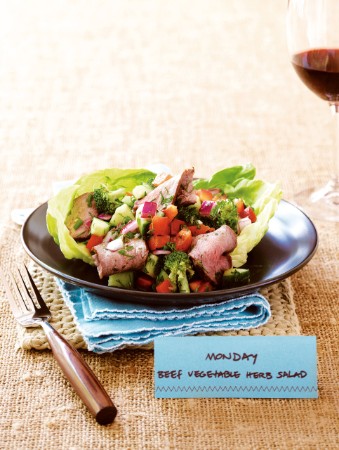 Beef Vegetable Herb Salad
Autumn 2007
BY: Emily Richards
Crunch and colour vibrate in this salad. Pull out some veggies from the crisper and grill a steak for a healthy satisfying meal that is quick to put together. Grilling an extra steak puts you a step ahead into another dinner for the week-great planning from the pantry!
1 bunch broccoli, stem peeled
1 red pepper, diced
Half red onion, diced
Half English cucumber, diced
3 tbsp (45 mL) each chopped fresh chives and Italian parsley
2 tbsp (25 mL) chopped fresh oregano
1 large clove garlic, minced
½ cup (125 mL) extra virgin olive oil
⅓ cup (75 mL) red wine vinegar
¼ tsp (1 mL) each salt and pepper, approximately
3 strip loin grilling beef steaks (about 12 oz/375 g each)
2 tbsp (25 mL) chopped fresh dill
6 Boston lettuce leaves
1. Chop broccoli into bite-size pieces and place in large bowl. Add pepper, onion and cucumber.

2. Stir together chives, parsley, oregano, garlic, oil, vinegar, ¼ tsp (1 mL) each of salt and pepper in another bowl. Place steaks in shallow glass dish and spoon over ¼ cup (50 mL) of the dressing and turn steaks to coat. Let stand for 15 minutes, turning once.

3. Drizzle remaining dressing over broccoli mixture and toss gently. Season with salt and pepper to taste; set aside.

4. Place steaks on greased grill over medium-high heat and grill for about 6 minutes, turning once or until medium. Remove to cutting board and thinly slice 2 of the steaks. Reserve the last steak for another dinner.

5. Add sliced steak to broccoli mixture with dill. Toss to combine. Place 1 Boston leaf on each plate and top with salad mixture.
SHARE