Beef Tenderloin
Summer 2007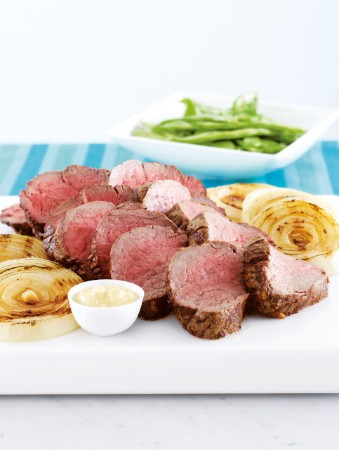 Beef Tenderloin
Summer 2007
BY: Lucy Waverman with Shaun Smith
This is a superb presentation for beef tenderloin. The outside is crusty and the inside pink and succulent.
One 3 lb (1.5 kg) beef tenderloin

Baste
1 tbsp (15 mL) Dijon mustard
1 tbsp (15 mL) soy sauce
½ tsp (2 mL) chopped garlic
1 tbsp (15 mL) freshly ground pepper
1 tbsp (15 mL) olive oil
Salt to taste
1 Spanish or large onion, peeled and cut into thick slices

Horseradish Mustard
¼ cup (50 mL) Dijon mustard
¼ cup (50 mL) horseradish
1. Preheat grill to high.

2. Combine mustard, soy sauce, garlic, pepper and oil. Brush onto beef.

3. Place beef on grill and sear 1 side for 2 minutes, roll onto second side and sear another 2 minutes, roll again and sear the remaining side. Brush with baste. Turn meat after 15 minutes. Brush onions with baste and place beside meat. Turn onions after 10 minutes. Grill meat until medium-rare, about 135ºF (60ºC) on an instant-read thermometer or to desired degree of doneness. Check onions and remove when browned around the edges and softened, about 15 minutes altogether.

4. Mix together mustard and horseradish.

5. Remove meat from grill. Let meat sit for 5 minutes, then carve into slices and serve with onions and horseradish mustard.
SHARE