Beef Tenderloin with Asian Flavourings
Été 2011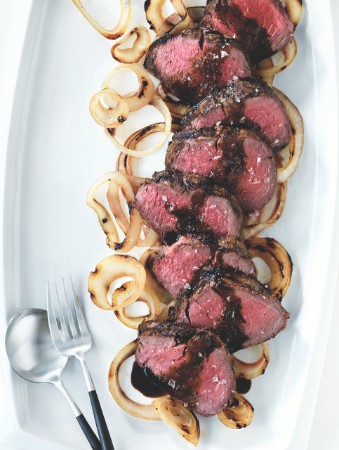 Beef Tenderloin with Asian Flavourings
Été 2011
BY: Lucy Waverman
An excellent choice for a special dinner. The meat has a rich, rounded flavour offset by the spicy onions.
3 tbsp (45 mL) soy sauce
2 tsp (10 mL) grated ginger
2 tsp (10 mL) chopped garlic
2 tsp (10 mL) cracked peppercorns
1 tbsp (15 mL) vegetable oil
3 lbs (1.5 kg) beef tenderloin
Salt to taste

ONIONS
1 tbsp (15 mL) slivered ginger
1 tbsp (15 mL) soy sauce
1 tbsp (15 mL) rice or cider vinegar
1 tsp (5 mL) Asian chili sauce or other hot sauce
2 tbsp (30 mL) vegetable oil
2 large Spanish onions
cut in ½-inch-thick (1-cm) rounds
Salt to taste

DRIZZLE
¼ cup (60 mL) low-salt soy sauce
½ cup (125 mL) balsamic vinegar
1 tsp (5 mL) grated lime rind

GARNISH
Maldon salt
1 Combine soy sauce, ginger, garlic, peppercorns and oil. Brush on beef and let marinate for 30 minutes to 2 hours. Sprinkle with salt just before grilling.

2 Combine ginger, soy sauce, vinegar, chili sauce and oil. Toss with onions then sprinkle onions lightly with salt. Reserve.

3 Preheat grill to high and turn off middle burner. Add meat to grill and grill with lid closed for 10 minutes, then turn over and grill another 15 minutes or until medium-rare. When you turn meat add onion slices to grill over the lit burners and grill for 5 minutes, turn over and grill another 5 minutes or until browned and juicy. Let tenderloin rest for 5minutes before carving.

4 Combine soy sauce, balsamic vinegar and lime rind in a small pot over high heat. Boil until syrupy, about 4 minutes.

5 Slice beef, sprinkle with Maldon salt and drizzle with soy balsamic glaze. Serve with onions.
SHARE