Beef Sticky Ribs
Hiver 2018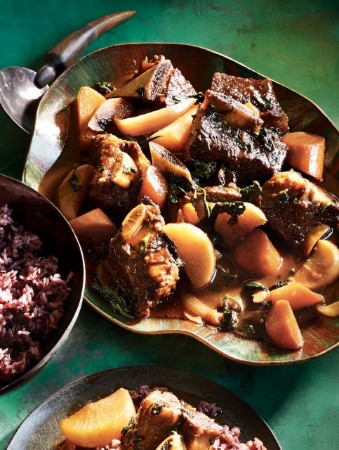 Beef Sticky Ribs
Hiver 2018
BY: Lucy Waverman
This is an amazing recipe. So succulent, spicy and yet slightly sweet. Korean short ribs are cut across the bone so that you have 3 or 4 small pieces of bone on each rib. For a perfect sauce, make a day ahead, refrigerate cooking liquid until cold and scrape off solidified fat. I added spinach for colour, but it is not traditional.
SEASONING SAUCE
6 cloves garlic, thickly sliced
¼ cup (60 mL) gochujang
2 tbsp (30 mL) soy sauce
4 thick cross-cut short ribs, each 2 inches (5 cm), about 3 lbs (1.5 kg) total
Freshly ground black pepper
3 tbsp (45 mL) vegetable oil
1 medium red onion, cut into 1 inch (2.5 cm) wedges
1 small rutabaga, peeled and cut into ½ inch (1 cm) wedges, about 1½ cups (375 mL)
2 large carrots, peeled and cut into 1 inch (2.5 cm) pieces
½ lb (250 g) white daikon radish, peeled and cut into ¾ inch (2 cm) half moons
1 strip orange peel, 2 inches (5 cm) long
3 star anise
3 cups (750 mL) beef or chicken broth or water
1 tsp (5 mL) honey
2 cups (500 mL) sliced baby spinach
Salt to taste
1. Preheat oven to 300°F (150°C).

2. Combine garlic, gochujang and soy sauce. Set seasoning sauce aside.

3. Season short ribs with pepper. Heat oil in an ovenproof pot over high heat. Brown ribs well, in batches so as not to crowd the pan, on all sides, about 6 minutes total. Transfer to a dish.

4. Remove all but 2 tbsp (30 mL) of fat from skillet. Reduce heat to medium. Add red onion and cook until beginning to soften, about 2 minutes. Add rutabaga, carrots, radish and seasoning sauce. Cook until seasoning sauce begins to thicken, about 5 minutes.

5. Return ribs and stir in orange peel and star anise. Add broth, bring to boil then cover and bake until beef is fork-tender but not falling apart, 2 to 2½ hours.

6. Remove the vegetables and ribs carefully. Divide ribs into portions by cutting between the bones. Skim off any fat from the cooking liquid. Add honey to the cooking liquid. Bring to a boil on high heat then reduce to a simmer until sauce is thickened and coats the back of a spoon, about 8 minutes. Return meat, vegetables and spinach to the sauce; simmer until meat and vegetables are heated through and spinach has wilted, about 5 minutes. Season to taste with salt and pepper. Place in serving bowl and serve with rice.
SHARE