Beef Steak with Onions & Bitters
Spring 2014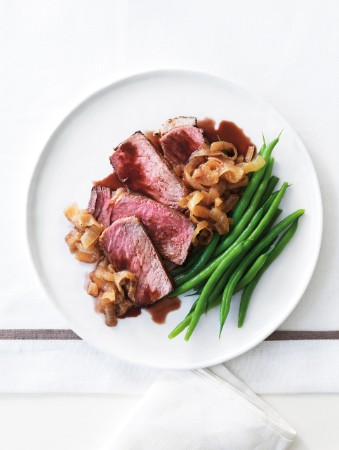 Beef Steak with Onions & Bitters
Spring 2014
BY: Lucy Waverman
The bitters in this dish round out the taste of the sauce and balance the sweetness of the caramelized onions. Angostura could replace the Lem-Marrakech in this recipe. Check the thickness of the rib-eye for timing. It takes about 12 minutes to an inch (2.5 cm). If you do not use homemade or butcher-bought unsalted stock, only reduce until it is flavourful, and thicken with a little cornstarch and water.
3 lb (1.5 kg) rib-eye steak

MARINADE
2 tbsp (30 mL) Dijon mustard
2 tbsp (30 mL) soy sauce
3 tbsp (45 mL) olive oil, divided
1 tbsp (15 mL) minced garlic
1 tbsp (15 mL) Lem-Marrakech bitters
Freshly ground pepper

CARAMELIZED ONIONS
2 tbsp (30 mL) olive oil
1 large Spanish onion, thinly sliced
½ tsp (2 mL) salt
½ tsp (2 mL) sugar
Freshly ground pepper to taste
4 tsp (20 mL) Lem-Marrakech bitters

RICH RED WINE SAUCE
2 tbsp (30 mL) chopped shallots
1 cup (250 mL) red wine
2 fresh thyme sprigs
¼ tsp (1 mL) sugar
2 cups (500 mL) good quality beef or chicken stock
1 tbsp (15 mL) cold butter, cubed
¼ tsp (1 mL) Lem-Marrakech bitters
1 Trim fat from rib-eye (if there is any) leaving a thin layer, and remove the string. Combine mustard with soy sauce, 2 tbsp (30 mL) oil, garlic, bitters and pepper. Brush over steak and leave to marinate for 1 hour at room temperature.

2 Heat 2 tbsp (30 mL) oil in skillet over medium heat. Add onions and season with salt, sugar and some pepper. Sauté onions for 2 minutes, then lower heat to medium-low.Cook until onions are a thick and deep golden, stirring occasionally, about 20 minutes. Season with bitters then remove from heat and reserve.

3 Preheat oven to 300°F (150°C).

4 Heat remaining 1 tbsp (15 mL) oil from marinade in a large ovenproof skillet over high heat. Add steak and sear all 4 sides for 3 minutes per side or until a deep rich brown.

5 Transfer skillet to oven. Roast for 35 to 45 minutes, turning once or until a meat thermometer reads 125°F (52°C) for medium-rare. Remove from oven and let sit for 10 minutes before carving.

6 Combine shallots with wine, thyme sprigs and sugar in a saucepan (not nonstick) over high heat. Bring to boil, and boil gently until wine is thickened and reduced to ¼ cup (60 mL) about 6 to 8 minutes. Add stock and reduce again until thickened, 10 to 12 minutes. Reduce heat to low and remove thyme sprigs. Gradually whisk in butter, and then stir in bitters.

7 Slice steak into thin slices vertically. Place on plate, garnish with onions and serve with a little sauce.
SHARE