Beef Soft Tacos with Crunchy Bean Medley
Spring 2006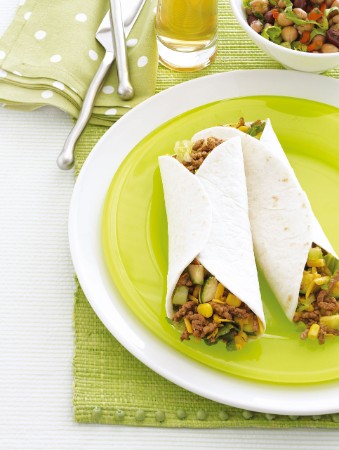 Beef Soft Tacos with Crunchy Bean Medley
Spring 2006
BY: Emily Richards
For these tacos, you could use alternatives for the beef such as ground turkey, chicken or pork. For a vegetarian option, look for veggie ground round in the produce aisle. If frozen vegetables are lurking in your freezer simply use ½ cup (125 mL) of diced frozen vegetables for the zucchini and corn. Crunch Bean Medley recipe follows.
4 oz (125 g) lean ground beef
3 tbsp (45 mL) water
1 clove garlic, minced
1½ tsp (7 mL) chili powder
¼ tsp (1 mL) ground cumin
¼ cup (50 mL) diced zucchini
¼ cup (50 mL) corn kernels
Salt
1/3 cup (75 mL) shredded cheddar cheese
2 tbsp (25 mL) salsa
2 small flour tortillas
¼ cup (50 mL) shredded romaine lettuce
1. Cook beef in a nonstick skillet over medium-high heat until browned. Drain any fat and return skillet and beef to medium heat.

2. Add water, garlic, chili powder and cumin and bring to boil.

3. Add zucchini, corn and pinch of salt and cook stirring for about 5 minutes or until liquid is absorbed. Stir half of the cheese into beef until melted. Remove from heat.

4.  Spread salsa over tortillas and sprinkle with remaining cheese. Divide beef mixture among tortillas and top with lettuce. Roll up and enjoy!

Crunchy Bean Medley
1 cup (250 mL) cooked mixed beans
1/3 cup (75 mL) shredded romaine lettuce
¼ small sweet red or green pepper, diced
2 tsp (10 mL) extra virgin olive oil
1 tbsp (15 mL) balsamic or red wine vinegar
1 small clove garlic, minced
1 tbsp (15 mL) chopped fresh basil or parsley
Salt and pepper
1. Combine beans, lettuce and pepper in bowl.

2. Add oil, vinegar, garlic, basil and pinch of salt and pepper. Toss to combine well. Serve with soft tacos.
SHARE