Beef Sirloin with Argentinean Criolla Sauce
Early Summer 2005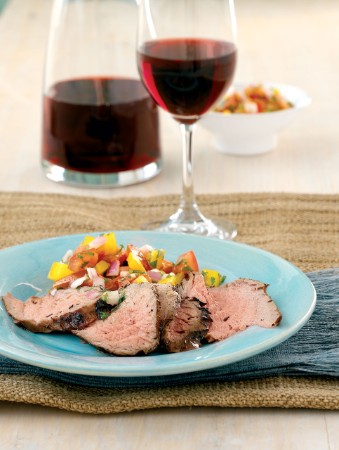 Beef Sirloin with Argentinean Criolla Sauce
Early Summer 2005
BY: Lucy Waverman
Argentinean beef is grass-fed and has more flavour than grain-fed beef, but is a bit chewier. In Argentina, they usually marinate the beef before it goes on the grill. There are many cuts that are good substitutes for Argentinean steak?trip tip and hangar steak are excellent. The best substitute is sirloin steak, if the others are unavailable.
½ cup (125 mL) red wine
¼ cup (50 mL) red wine vinegar
2 tbsp (25 mL) olive oil
1 tbsp (15 mL) fresh chopped thyme
1 tsp (5 mL) chopped garlic
Salt and freshly ground pepper
3 lb (1.5 kg) sirloin or trip tip steak, about 2-inches (5-cm) thick
1. Place red wine in a small pot and bring to a boil over high heat. Boil for 2 minutes and remove from heat. Stir in vinegar, olive oil, thyme, garlic and salt and pepper. Cool. Pour over steak and marinate for 1 hour at room temperature or 4 hours in the refrigerator.

2. Preheat grill to high.

3. Remove steak from marinade and brush with extra oil. Place steak on grill and grill for 7 to 10 minutes, depending on thickness. Turn over and grill second side another 7 to 10 minutes or until medium-rare. Remove steak from grill and let sit on carving board for 5 minutes. Slice down against the grain and serve with the Criolla Sauce. (recipe follows).

Criolla Sauce
2 cups (500 mL) diced tomatoes
½ cup (125 mL) yellow pepper, diced
½ cup (125 mL) chopped red onion
2 tbsp (25 mL) chopped coriander

Vinaigrette
1 tsp (5 mL) chopped jalapeño pepper or to taste
1 tsp (5 mL) chopped garlic
1 tsp (5 mL) dried mustard powder
2 tbsp (25 mL) red wine vinegar
¼ cup (50 mL) olive oil
Salt and freshly ground pepper
1. Combine tomatoes, diced pepper, red onion and coriander in a bowl. Whisk together jalapeño, garlic, mustard powder, vinegar and olive oil. Stir into the tomatoes and season with salt and pepper. Serve immediately with the steak.
SHARE