Beef Ragu with Roasted Tomato Sauce
Autumn 2003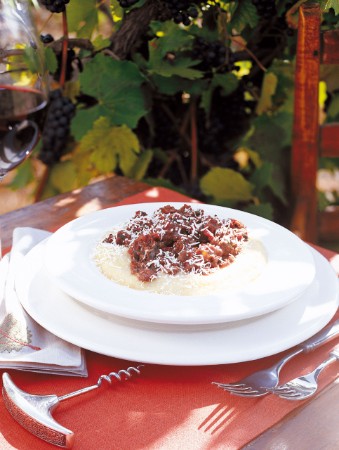 Beef Ragu with Roasted Tomato Sauce
Autumn 2003
BY: Lucy Waverman
Fresh tomatoes are abundant at this time of year and when cooked make a superb, savoury tomato sauce. When buying ground beef remember, the more coarsely the meat is ground, the more flavour the ragu will have. You can also grind your own by buying stewing beef and grinding it in the food processor. Toss with penne pasta or serve over polenta.
Tomato Sauce:
1/2 cup (125 mL) dried porcini mushrooms
1/2 cup (125 mL) hot water
6 beefsteak tomatoes
1/4 cup (50 mL) olive oil
10 anchovy fillets, drained
1 tbsp (15 mL) chopped garlic
1 tsp (5 mL) chopped fresh thyme
2 tbsp (25 mL) slivered basil
Salt and freshly ground pepper


Beef Ragu
2 tbsp (25 mL) olive oil
1 lb (500 g) coarsely ground lean beef
Salt and freshly ground pepper
2 oz (60 g) diced pancetta, optional
1 cup (250 mL) Baco Noir
3 tbsp (45 mL) chopped Italian parsley
1. Preheat oven to 400ºF (200ºC).

2. Soak mushrooms in hot water for 30 minutes. Strain, separately reserving mushroom soaking liquid and mushrooms.

3. Slice tomatoes thickly. Oil an ovenproof baking sheet with 1 tbsp (15 mL) oil. Place tomatoes on sheet. Top with anchovy fillets, garlic and herbs. Season with salt and pepper. Pour over remaining 3 tbsp (45 mL) olive oil.

4. Bake for 20 minutes. Cool slightly and purée in food processor, leaving sauce slightly chunky. Measure 2 cups (500 mL) sauce, reserving remainder for another use.

5. While tomatoes are baking, heat oil in large skillet or sauté pan on high heat. Add half of beef. Season beef with salt and pepper. Place pancetta in skillet and sauté for 2 minutes. Fry until browned on the outside, about 2 minutes. Remove meat and fry second half. Drain any fat.

6. Pour in wine and bring to boil, scraping up any little bits on the base of the skillet. Return meat and stir in mushrooms and their soaking liquid and tomato sauce. Bring to boil, reduce heat to medium-low, cover and cook for 30 minutes. Uncover and cook 15 to 20 minutes longer or until sauce is rich and thickened slightly. Season well with salt and pepper. Stir in parsley.
SHARE