Beef Kefta in Pita
Summer 2013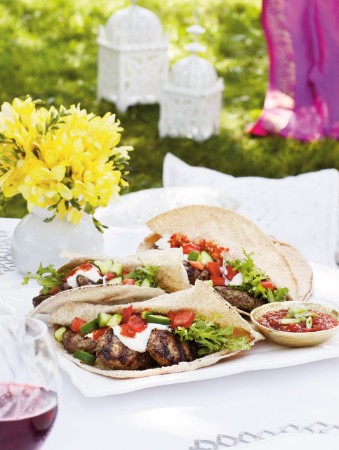 Beef Kefta in Pita
Summer 2013
BY: Marilyn Bentz-Crowley
These "burgers" have attitude! The savoury meat mixture is variously formed into long cylinders on skewers or made into patties or even meatballs for nibbles with drinks. Here patties are stuffed into pita, drizzled with harissa, dolloped with yogurt or tzatziki and garnished with greens and refreshing diced vegetables.
½ cup (125 mL) lightly packed flat-leaf parsley leaves
¼ cup (60 mL) lightly packed mint leaves
2 green onions, very thinly sliced
¼ cup (60 mL) coarsely chopped toasted pine nuts
¼ cup (60 mL) fresh bread crumbs
1 tsp (5 mL) each of ground cumin, coriander seed and hot chili flakes
½ tsp (2 mL) salt
1 egg
2 large garlic cloves, minced
1½ lbs (750 g) lean ground beef
2 to 3 tbsp (30 to 45 mL) olive oil
8 large pita, about 9 inches (23 cm) in diameter
1 to 1½ cups (250 to 375 mL) Greek yogurt or tzatziki
¼ to ½ cup (60 to 125 mL) hot sauce such as harissa or sambal oelek
4 cups (1 L) baby greens or torn lettuce
3 large roma tomatoes, seeded and diced
3 to 4 baby cucumbers, diced
1 Finely chop parsley and mint leaves. Place in a mixing bowl with green onions, pine nuts, bread crumbs, cumin, coriander seed, chili flakes and salt. Add egg and garlic; stir together until well mixed.

2 Crumble beef overtop mixture in mixing bowl; using hands, knead all until very well mixed. Form into 8 balls then halve each ball, making 16 portions of beef mixture.

3 Lightly oil a 15 x 10-inch (38 x 25-cm) jellyroll pan with some of the olive oil. Form each ball on oiled pan into an oblong about 3 inches (8 cm) long and about 2 inches (5 cm) wide. Drizzle more olive oil overtop each patty.

4 Cover and refrigerate for at least 30 minutes or up to half a day. (Patties can be tightly covered and frozen for a couple of weeks. Grill from frozen, adding a few extra minutes cooking time.)

5 Preheat barbecue until very hot.

6 Grill patties on high for 4 minutes per side or until crusty on outside and just cooked through. Meanwhile warm pita. Carefully open up pita halfway from one edge. Stuff each pita with 2 or 3 patties. Enjoy hot or at room temperature if transporting.

7 When ready to eat, top with a dollop of yogurt and a spoonful of harissa. Garnish each with baby greens, tomatoes and cucumbers. Roll opened edge over filling and serve right away.
SHARE