Beef Fillet Steaks with Brown Butter Béarnaise
Temps des Fêtes 2016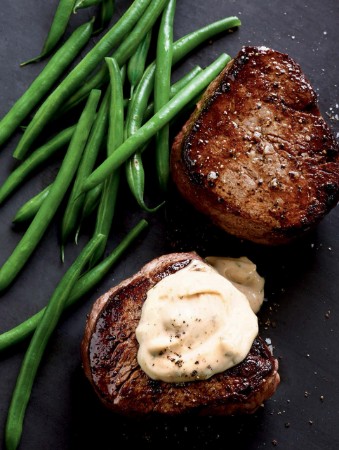 Beef Fillet Steaks with Brown Butter Béarnaise
Temps des Fêtes 2016
BY: Lucy Waverman
Brown butter is trendy right now and a brown butter béarnaise hits all the right notes. Serve the sauce at room temperature or reheat very gently to make sure it does not separate. Serve with sautéed leeks, a few green beans and a potato gratin for maximum appeal.
BROWN BUTTER BÉARNAISE
½ cup (125 mL) unsalted butter
2 tbsp (30 mL) white wine vinegar
1 tbsp (15 mL) water
4 tsp (20 mL) chopped fresh tarragon or 1 tsp (5 mL) dried
2 tsp (10 mL) minced shallots
6 black peppercorns
½ cup (125 mL) full-fat mayonnaise
Salt and freshly ground pepper to taste


1 tbsp (15 mL) vegetable oil
2 tbsp (30 mL) butter
4 fillet steaks, each 6 to 8 oz (175 to 250 g)
Salt and freshly ground pepper
1 For béarnaise, place butter in a skillet over medium heat, watching that it does not burn, and cook until butter turns brown and has a nutty taste, 4 to 5 minutes. Remove from heat and cool to room temperature.

2 Combine vinegar, water, half the tarragon, shallots and peppercorns in a small saucepan over medium heat. Bring mixture to a boil, reduce heat and simmer for 1 to 2 minutes or until reduced to 1 tbsp (15 mL). Strain.

3 Combine mayonnaise and vinegar mixture in a medium bowl. Slowly whisk in room temperature brown butter. Sauce will thicken. Season well with salt and pepper. Stir in remaining tarragon.

4 For steaks, heat oil and butter in a large skillet over medium-high heat. Season beef with salt and pepper. Add steaks to pan and sear for 3 minutes. Flip and sear for 3 more minutes. Flip again, basting steaks with the butter and oil and cook for another minute. Repeat on other side for medium-rare. Remove to a platter and let rest for 5 minutes.

5 Serve the béarnaise in a small ramekin on the side or spoon over meat.
SHARE