Beef Burgers with Grilled Mushrooms and Jarlsberg
Spring 2018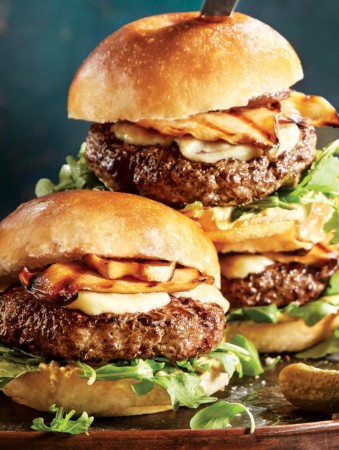 Beef Burgers with Grilled Mushrooms and Jarlsberg
Spring 2018
BY: Eric Vellend
The beloved cheeseburger gets a new twist with chewy king oyster mushrooms and nutty Jarlsberg. Since the patty is only seasoned with salt and pepper, it's worth the effort to source beef from a reputable butcher who grinds it fresh daily. Otherwise look for regular- to medium-ground beef to ensure juicy results.
1½ lbs (750 g) good quality-ground beef chuck
3 tbsp (45 mL) unsalted butter
1 clove garlic, finely chopped
6 oz (175 g) king oyster mushrooms, sliced lengthwise ¼ inch (5 mm) thick
Salt and freshly ground pepper to taste
4 oz (125 g) Jarlsberg cheese, thinly sliced to fit patties
4 plain burger buns
Dijon mustard to taste
Handful baby arugula for garnish
1. Divide beef into 4 even balls. With minimal handling, form balls into patties to fit buns. (Patties will keep, covered and refrigerated, for 2 days.)

2. In a small saucepan, heat butter over medium heat. When it melts, add garlic. Let garlic sizzle about 1 minute and remove from heat.

3. Preheat grill to medium-high. Place mushrooms on baking tray. Brush both sides with garlic butter.

4. Clean and oil barbecue grate. Season patties generously with salt and pepper. Grill patties until cooked to desired doneness, about 4 minutes per side for medium and 6 minutes per side for well done. Place cheese on patties for last 2 minutes of cooking.

5. While burgers are cooking, grill mushrooms, turning occasionally, until tender, 3 to 4 minutes in total. Transfer to tray and season with salt and pepper.

6. Smear bun bottoms with mustard and top with arugula. Place patties and grilled mushrooms on top. Cover with bun tops. Serve immediately.
SHARE