Beef Bourguignon
Autumn 2009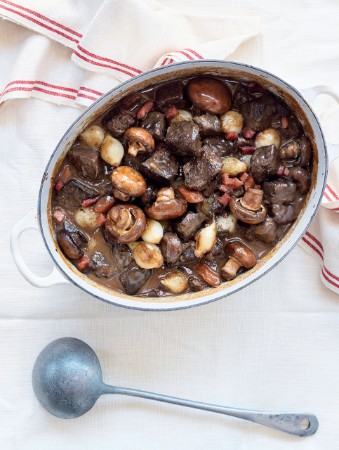 Beef Bourguignon
Autumn 2009
BY: Lucy Waverman
This is a typical French braise. Use a stewing meat such as chuck or brisket. To easily remove pearl onion skins, pour hot water over onions and let them sit for 20 minutes. The skins will slip off. Serve with mashed potatoes.
2½ lbs (1.25 kg) stewing meat, cut into 2 inch (5 cm) pieces
Salt and freshly ground pepper
3 tbsp (45 mL) olive oil
4 oz (125 g) sliced double smoked bacon, diced
18 pearl onions, skinned
8 oz (250 g) small cremini mushrooms
1 cup (250 mL) chopped onion
½ cup (125 mL) chopped carrot
½ cup (125 mL) chopped celery
2 cups (500 mL) red wine
2 cups (500 mL) beef stock
1 head garlic, dry papery layers brushed off and top third of bulb removed
1 bay leaf
2 stalks thyme
4 sprigs parsley

Beurre Manie
3 tbsp (45 mL) softened butter
3 tbsp (45 mL) flour
1. Preheat oven to 300°F (150°C).

2. Season meat with salt and pepper.

3. Heat 1 tbsp (15 mL) oil in Dutch oven over medium-high heat. Add bacon and sauté until slightly crisp. Remove from pan and reserve.

4. Add pearl onions, sauté for 5 minutes, add mushrooms and sauté for 5 minutes longer or until mushrooms are browned and juicy and onions are softened. Remove onions and mushrooms and reserve. Wipe out pot.

5. Add another 1 tbsp (15 mL) oil to pot and, working in batches, add meat to pot in a single layer without crowding the pot, adding more oil as needed. Sear meat on each side until browned, about 1 minute per side. Remove and place in a strainer over a bowl to let the fat drip out.

6. Reduce heat to medium. Add remaining 1 tbsp (15 mL) oil to pan. Add chopped onions, carrots and celery and sauté for 5 minutes or until softened. Add wine, scraping up any brown bits from the base of the pan. Bring to boil and boil for 1 minute, then add stock, garlic, bay leaf, thyme and parsley sprigs. Return to boil and skim off any foam that rises to top. Stir in meat.

7. Cover and bake for 2 to 2½ hours or until meat is very tender. Uncover, remove garlic, thyme, bay leaf and parsley sprigs. Add reserved bacon, pearl onions and mushrooms, return pot to oven and bake another 15 minutes or until meat is very tender and sauce is rich.

8. To make beurre manie, combine butter and flour to make a paste.

9. If sauce is not thick enough, strain into a separate pot and add the beurre manie a bit at a time until it is thickened to your satisfaction. This should not be a very thick sauce. Season to taste and return to pot.
SHARE