Beef & Pine Nut Empanadas
Summer 2011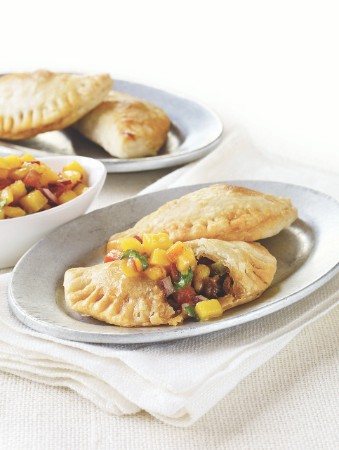 Beef & Pine Nut Empanadas
Summer 2011
BY: Tonia Wilson-Vuksanovic
Empanadas are a tasty labour of love and time, so crack open a wheat beer, roll up your sleeves and enjoy the process. One of the keys to a good empanada, or for that matter any stuffed snack, is to roll the dough thin. If the dough is too thick it will overwhelm the flavour of the filling—there should be a good ratio of filling to pastry.
DOUGH
3 cups plus 2 tbsp (750 mL plus 30 mL) all-purpose flour
½ tsp (2 mL) table salt
⅓ cup (80 mL) vegetable shortening
¾ cup (175 mL), 1½ sticks, unsalted butter, chilled and cut into small cubes
½ cup (125 mL) ice water, plus more as needed

STUFFING
2 tbsp (30 mL) olive oil
1 cup (250 mL) onion, finely chopped
2 tbsp (30 mL) garlic, finely chopped
1 tbsp (15 mL) jalapeño pepper, seeded and finely chopped (use 2 tbsp/30 mL for a more piquant flavour)
¼ tsp (1 mL) ground cinnamon
1 tsp (5 mL) ground cumin
¼ cup (60 mL) tomato paste
½ tsp (2 mL) salt
13 oz (385 g) lean ground beef
¼ cup (60 mL) water
⅓ cup (80 mL) pine nuts, toasted
⅓ cup (80 mL) mozzarella, grated
1 tbsp (15 mL) milk
1 egg
1 Place flour and salt in food processor, pulse to blend.

2 Add shortening and butter and pulse on high speed until the mixture resembles a coarse meal and the butter is still in pea-size pieces.

3 Pulsing the processor on high speed, add the water, along with additional 1 or 2 tbsp (15 or 30 mL) as needed. Use a fork to mix the flour in the processor, bringing up the pieces from the bottom of the bowl. This will give a clear read of how much more water is needed, if any.

4 Empty flour mixture onto floured surface and divide in half; gently roll into 2 balls. Flatten each ball into a 5-inch (12-cm) disc, wrap with plastic wrap and refrigerate for 1hour.

5 In a medium sauté pan, heat oil over medium heat. Add onion, garlic and jalapeño and sauté for 4 minutes. Add cinnamon, cumin and tomato paste and cook for another minute. Add salt, beef and water, cover and cook until meat is cooked through, about 5 minutes. Take lid off and continue to cook until browned, about 3 minutes. Set mixture aside in medium bowl; when slightly cooled, stir in pine nuts and cheese.

6 Heat oven to 400°F (200°C).

7 With a fork beat milk and egg together. On a floured surface, roll out 1 disc of dough very thinly, (about 1∕9 inch/2 mm). With a 4-inch (10-cm) cookie cutter, cut as many circles as possible from the dough. Using a pastry brush or fingertip, brush the edges of all the circles with the egg mixture. Place a heaping tbsp(15mL-plus) of beef mixture in the middle of each circle and fold circles in half to enclose the mixture. Crimp edges with a fork or fingertips to seal, place on a parchment-lined baking sheet and brush with additional egg mixture.

8 Layer trimmings from circles on top of each other and roll out again to allow for more circles (do not work the dough too much as it will make for tough pastry). Each disc should allow for 12 to 14 circles.

9 Repeat process with second disc and remaining beef mixture. Once all empanadas are filled and brushed with egg mixture, place in oven and bake for 20 minutes or until golden. Serve with Apricot Salsa (recipe follows).
Apricot Salsa
This salsa is refreshing and pretty. Scoop it onto the empanadas before each bite for a medley of great flavour and texture.
1½ cups (375 mL) fresh apricot, pitted and chopped
2 tbsp (30 mL) red onion, finely diced
½ cup (125 mL) plum tomato, finely diced
1 tbsp (15 mL) fresh cilantro, coarsely chopped
¼ tsp (1 mL) salt
1 tbsp (15 mL) brown sugar
1 tbsp (15 mL) white wine vinegar
1 tbsp (15 mL) olive oil
1 In a medium bowl, stir together all the ingredients and serve alongside empanadas.
SHARE