Beef & Feta Pasta Pie
Autumn 2017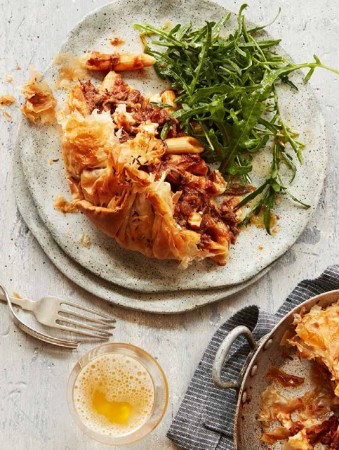 Beef & Feta Pasta Pie
Autumn 2017
BY: Christopher St. Onge
The sauce makes enough for a double portion—keep unused sauce in the fridge for up to 5 days or in the freezer for up to a month before using in a second pie or spooning over buttered noodles. If you want to double-size the pie, simply use all the sauce and only double up on the penne, cheese, phyllo, butter and whole cumin seed. Bake in a 9-inch (23-cm) pie plate as directed.
Generous pinch saffron, about 60 threads
2 tbsp (30 mL) warm water
2 tbsp (30 mL) olive oil
1 lb (500 g) well-marbled blade steak
Salt and freshly ground black pepper
2 onions, thinly sliced
½ tsp (2 mL) cumin
1 tbsp (15 mL) paprika
1 tsp (5 mL) dried marjoram
1 cup (250 mL) beef stock, preferably homemade
1 can (398 mL) diced tomatoes
5 oz (150 g), about 1¾ cups (425 mL), uncooked penne rigate
3½ oz (105 g) drained feta, preferably Ontario Bonfeta or Bulgarian feta
¼ cup (60 mL) salted butter, melted
4 sheets thawed phyllo
¼ tsp (1 mL) whole cumin seeds


1 Preheat oven to 300°F (150°C).
2 Combine saffron and warm water in a small bowl; set aside.
3 Heat oil in a large ovenproof pot over medium-high. Season steak generously with salt and pepper. Brown 3 minutes per side; remove to a plate.
4 Immediately add onions to pot; cook, stirring often, for 4 minutes or until translucent. Stir in cumin, paprika and marjoram; pour beef stock over, then tomatoes. Add saffron mixture, stir to combine, and slip the beef back into liquid; season with salt and pepper. Bring to a boil, cover and place in oven for 3 to 3½ hours or until onions are dissolved into sauce and meat is very tender. Shred meat with 2 forks.
5 Heat oven to 375°F (190°C).
6 Cook penne in boiling salted water for 1 minute less than time indicated on package. Drain and toss with half the sauce. Break feta into small chunks and fold into pasta; set aside.
7 Using melted butter, grease a 6-inch (15-cm) cake pan or ovenproof skillet. Cut phyllo sheets in half crosswise (or leave whole if doubling size as indicated in the headnote). Place 1 half-sheet in pan; using a pastry brush, brush with butter. Arrange a second piece of phyllo over first to form a cross; again brush with butter. Continue with remaining pieces of phyllo, now rotating each sheet a one-eighth turn, and brushing each with butter.

8 Spoon pasta into centre of phyllo; fold phyllo up and over to enclose. Brush with remaining butter and sprinkle with whole cumin seeds. Bake in preheated oven 40 to 45 minutes. Cut in half with serrated knife; place half on each of 2 plates.
SHARE