Bay of Quinte Pickerel Grilled over Vine Cuttings with Fennel
Summer 2006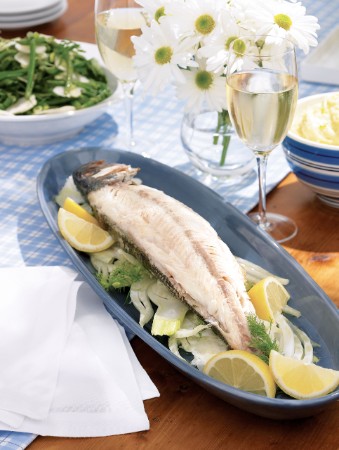 Bay of Quinte Pickerel Grilled over Vine Cuttings with Fennel
Summer 2006
BY: Michael Potters, Chef, Harvest Restaurant
Nothing completes a successful day of walleye (pickerel) fishing on the beautiful Bay of Quinte in Prince Edward County more perfectly than grilling your freshly caught fish over fragrant fennel and the smoldering embers of gnarled vine cuttings. If you can obtain vine cuttings then use them - otherwise omit. Michael cooks this dish on a wood-burning BBQ but the instructions are for a gas BBQ as well.
One 3 to 7 lb (1.5 to 3.15 kg) whole pickerel, freshly caught
Juice of 1 lemon
Salt and freshly ground pepper
½ cup (125 mL) extra virgin olive oil
1 small head of fennel
2 to 3 fresh tarragon sprigs, leaves picked off
2 cloves garlic, finely sliced

Garnish
Lemon wedges
1. Clean fish leaving the fish whole (the fish is juicier if cooked with the head on, but cut it off if desired).

2. Combine lemon juice with olive oil, divide in half, reserving half to garnish the cooked fish. Season fish inside and out with salt and pepper and brush generously with lemon and olive oil mixture.

3. Slice fennel lengthwise. Remove fennel fronds. Fill fish with fennel fronds, tarragon leaves and sliced garlic. Skewer fish closed and tie if necessary.

4. Preheat grill on high heat. Alternatively prepare a small wood fire under a grill that is approximately 8 to 10-inches (20 to 25-cm) above the heat. Feed the fire with the vine cuttings as needed to keep it hot.

5. When the fire is hot, place outer fennel slices on the grill as a bed for the fish. This will also help prevent the fish from sticking to the grill. Place fish on the fennel on the grill, and brush with reserved lemon and olive oil mixture. Grill for 15 minutes. Baste fish again and turn over. Continue cooking, turning and basting to cook evenly until the fish is opaque near the centre when pierced with a fork, about 25 minutes altogether for a 3 lb (1.5 kg) fish and up to 40 minutes for a 7 lb (3.15 kg) fish.

6. Place fish on a warm platter, carefully lifting from the grill with a broad spatula and fork or spoon. Discard fennel. Pull skin off top of the fish with fingers, loosening it with a fork. Pour remaining lemon and olive oil mixture over the fish and garnish with additional lemon wedges.
SHARE