Curried Monkfish in Coconut Broth
Holiday 2014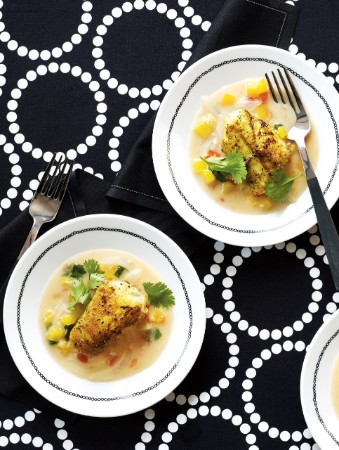 Curried Monkfish in Coconut Broth
Holiday 2014
BY: Tonia Wilson-Vuksanovic
Treat your guests to a fish they may not have had before. Monkfish is readily available and is easy to work with. It has a luxurious texture that is often compared with lobster and is the perfect backdrop for the flavour of the curry.
2 monkfish tails, about ¾ lb (375 g) total, each cut into 2 equal halves
Salt
2 tsp (10 mL) curry powder
1 tbsp (15 mL) vegetable oil

BROTH
1 tbsp (15 mL) vegetable oil
½ tsp (2 mL) fresh chili, finely chopped, or to taste
1 tsp (5 mL) fresh garlic, finely chopped
2 tsp (10 mL) fresh ginger, peeled and finely chopped
½ cup (125 mL) onion, very finely slivered
½ cup (125 mL) yellow peppers, finely diced
½ cup (125 mL) plum tomatoes, seeded and finely diced
Zest of 1 lime, finely grated on a rasp
¾ cup (175 mL) coconut milk; shake can well before measuring
1 tbsp (15 mL) lime juice
2 tbsp (30 mL) water
⅓ cup (80 mL) fresh cilantro leaves, loosely packed
1 Place monkfish pieces on a paper-towel lined plate and season well with salt on both sides. Let sit 10 minutes and then blot away excess water.

2 Meanwhile, for broth, in a medium saucepan heat 1 tbsp (15 mL) vegetable oil over medium heat, add chili, garlic and ginger, cook for 3 minutes. Add onions and peppers and continue to cook until onions are tender, about 5 minutes. Make sure not to allow onions to brown.

3 Add tomatoes and lime zest and cook until tomatoes are softened, about 3 minutes. Add coconut milk, lime juice, water and salt to taste. Simmer for 5 minutes at medium heat. Check seasoning, and add salt if necessary.

4 Sprinkle monkfish with curry powder on all sides.

5 In a medium nonstick skillet heat 1 tbsp (15 mL) oil over medium-high heat. Cook monkfish until golden on all sides, about 4 minutes on each side, depending on thickness.

6 Add half the cilantro to the broth and stir. Divide vegetables and broth between 4 shallow bowls and top each with a piece of monkfish. Garnish generously with remaining cilantro and serve.
SHARE